GE's Alstom Prize Shifts Focus Back to Finance, Appliance Sales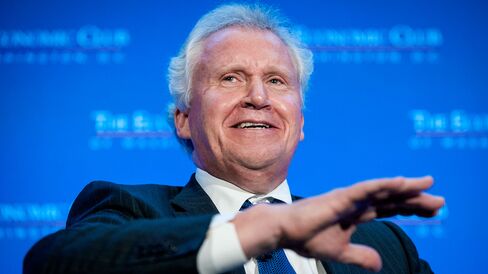 Acquisition is `key part' to Immelt's pivot away from lending

CEO still weighing M&A, but `there's nothing we need to do'
As General Electric Co. closes in on one of its biggest-ever purchases, Jeffrey Immelt can shift his focus back to selling assets.
Returning GE to its industrial roots means unloading the bulk of the GE Capital lending arm and overcoming U.S. opposition to the divestiture of the home-appliances division, along with buying Alstom SA's energy business. GE's chief executive officer cleared one hurdle Tuesday when U.S. and European regulators signed off on that 8.5 billion-euro ($9.5 billion) acquisition.
"I love the way the company looks," Immelt said in a telephone interview. "This pivot we talked about has a couple pillars in it, and this is one of them, so we're thrilled to get it done. This is a key part to the overall strategy of the company."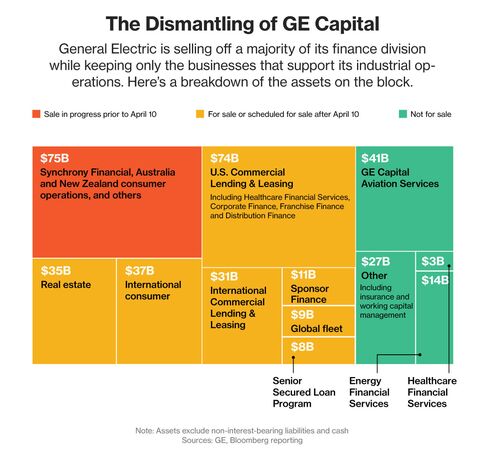 GE agreed last year to buy Alstom's gas-turbine operations -- and create joint ventures in the steam turbine, renewable energy and electrical-transmission businesses -- in a 12.4 billion-euro deal. The final purchase price, adjusting for remedies, joint ventures and changes in the deal structure, is expected to be about 8.5 billion euros, GE said.
Ansaldo's Role
GE's pledge to sell assets to an Italian rival, Ansaldo Energia SpA, helped allay concerns that the plan would crimp competition in the power-generation market, the European Commission said Tuesday in a statement. The U.S. Justice Department signaled its approval minutes later.
Those green lights moved Fairfield, Connecticut-based GE toward a predicted fourth-quarter closing on the deal. The stock rose 4 percent to $24.96 at the close in New York, the biggest gain in the Dow Jones Industrial Average.
GE is fighting U.S. regulators on a different front after the Justice Department sued in July to block the $3.3 billion sale of the appliances unit to Electrolux AB. The government said consumers would be hurt by a sale that removes a major manufacturer from the market. A trial date is set for November.
"My expectation is that this deal gets approved," Immelt said. "Similar deals in the appliance industry have been approved in the past."
Industrial Emphasis
Succeeding with that divestiture would eliminate one of GE's last remaining consumer-facing businesses, letting it focus on industrial products such as jet engines, diesel locomotives and oilfield equipment. GE is also selling about $200 billion of GE Capital lending assets, shrinking a division that imperiled the parent company during the financial crisis.
Immelt said the GE Capital sales, which include last month's $9 billion deal with Capital One Financial Corp. for the health-care finance division, are running ahead of schedule. Once targeted to finish in 2017, the GE Capital pullback is now projected to be completed next year.
While GE plans to use the proceeds to buy back shares, Immelt would be positioned to make more acquisitions, said Deane Dray, an analyst with RBC Capital Markets LLC.
"This does not take them out of the M&A market," Dray said. "The bias will be to do smaller bolt-on deals, but for GE a bolt-on deal can be $2 billion to $4 billion."
Immelt said he is looking for potential acquisitions, but "there's nothing we need to do."
"I feel really good about how the company's positioned," said Immelt, 59, who marked his 14th anniversary as CEO this week. "We'll still do more deals, but we've got a lot on our plate right now."
Before it's here, it's on the Bloomberg Terminal.
LEARN MORE