Farmers See Relief as South African Corn-Growing Areas Get Rain
Rains to help prepare soil for 2015-16 season's plantings

Weather service predicts more rains for Sept. 10, 11
Corn-producing areas in South Africa, the continent's largest grower of the grain, received rains over the weekend, boosting soil moisture as farmers prepare land for plantings for the 2015-16 season.
The town of Wepener in the Free State province, the region responsible for 53 percent of the nation's crop in the 2013-14 season, got 2 millimeters (0.1 inch) of rain on Monday, the South African Weather Service said on its website. Groot Marico in the North West province, producer of 36 percent of last season's harvest, received the same amount, it said. Precipitation was recorded throughout both regions and the Mpumalanga province on Sept. 4 and 5, and more is forecast for the Free State on Sept. 10 and 11.
"The rains bring some relief, but more rains are definitely needed in coming weeks to add to soil moisture for crops," Warren Langridge, a trader with Sigma Option Writers in Hermanus, South Africa, said by e-mail on Tuesday. The rain "will help farmers prepare their soil for the new seasons plantings," he said.
The worst drought since 1992 this year hurt crops in the Free State and North West provinces, which accounted for almost two-thirds of corn output last year, and prompted the nation to start importing the grain. Farmers, due to finish harvesting in September, reaped 14.3 million metric tons in 2014, the most in 33 years. Corn is mainly planted in the summer months of October to December.
The drought has caused local prices of white corn, used to make a staple food known as pap, to surge 46 percent this year. That of the yellow type, used mainly as animal feed, has risen 33 percent.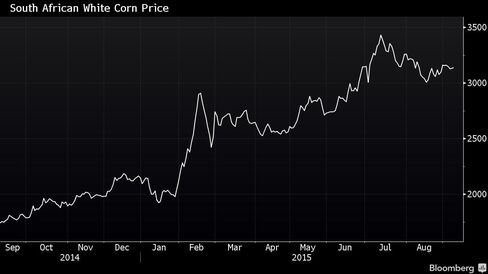 The Crop Estimates Committee predicts this season's harvest will be 9.84 million metric tons, the smallest since 7.13 million tons in 2007.
Before it's here, it's on the Bloomberg Terminal.
LEARN MORE