Mugabe Succession Race Takes New Turn as Mujuru Re-Enters Fray
Manifesto to boost economy may signal intent to form new party

Ousted VP wants equitable compensation for seized farms, land
The race to succeed Zimbabwean President Robert Mugabe took a new twist as former Vice President Joice Mujuru signaled she may be on the verge of forming a new political party.
Mujuru, 65, was among several prominent members of Mugabe's ruling Zimbabwe African National Union-Patriotic Front who were ousted at a party congress in December. On Tuesday, she released a manifesto that proposed an overhaul of the southern African nation's black empowerment laws and other reforms to encourage investment.
"The manifesto shows Mujuru is prepared to be in opposition or lead an opposition party," Derek Matyszak, an analyst at the Research and Advocacy Unit, a Harare-based independent research group, said by phone.
Mujuru may be able to secure the backing of almost 90 other officials and lawmakers, including former ZANU-PF Secretary for Administration Didymus Mutasa and former spokesman Rugare Gumbo, who have also been suspended or fired from the ruling party since its December congress. Justice Minister and deputy party leader Emmerson Mnangagwa replaced Mujuru as first vice-president, bolstering his chances of succeeding Mugabe, 91, who has ruled Zimbabwe since independence in 1980.
Zimbabwe's next elections are scheduled to take place in 2018. The Movement for Democratic Change, currently the nation's main opposition party, which formed part of a coalition government with ZANU-PF between 2009 and 2013, has been weakened by an internal power struggle.
Mujuru fought in the liberation war under the nom de guerre of Teurai Ropa, which means spill blood in the Shona language, and was appointed to Mugabe's first cabinet at the age of 25 in 1980 as Youth, Sport and Recreation Minister.
She is the widow of Solomon Mujuru, who was the country's military commander until stepping down in 1995 and retiring to manage his business interests. He died in a fire on his farm southwest of Harare in August 2011. While a government inquiry in 2012 found nothing suspicious about his death, his family continues to say the causes were unclear after a magistrate refused to order an exhumation of the body.
"A whole review of the Indigenization Act will be effected," Mujuru said in her "Blueprint to Unlock Investment and Leverage for Development," or BUILD, which was circulated to reporters on Tuesday in the capital, Harare. "We shall emphasize economic empowerment that attracts investments."
The document also calls for the restoration of property rights and pledges to "address historical compulsory acquisition through fair and transparent compensation," a reference to the often-violent seizure of most white-owned farms in the country since 2000.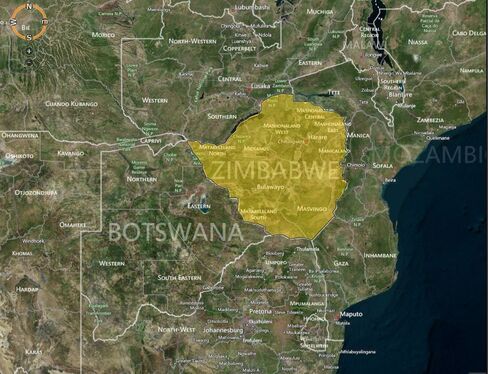 Before it's here, it's on the Bloomberg Terminal.
LEARN MORE