Emerging Market Bets Turn Sour for Standard Chartered, Santander
Potential for higher loan losses is spooking investors

Lower earnings would deal blow to capital-building plans
European banks that staked their growth on emerging markets face a worsening profit outlook as turmoil roils economies from Asia to South America.
Standard Chartered Plc's Bill Winters, who took over as chief executive officer in June, may see bad loans soar in Asia, where the bank makes most of its profit. Banco Santander SA and Banco Bilbao Vizcaya Argentaria SA, Spain's largest lenders, both rely on income from Latin America as low interest rates limit growth at home.
China's surprise yuan devaluation last month fueled concern the global economy is heading for a slowdown, even as the U.S. Federal Reserve prepares to raise interest rates for the first time in nine years. Currencies from Malaysia to Turkey to Brazil tumbled, while an index of commodities fell to its lowest since 1999 last month.
"Standard Chartered has experienced the unfortunate double whammy of a commodity price slump and emerging-market currency pain damaging both its growth and credit-quality outlook," said Jonathan Tyce, senior banks analyst at Bloomberg Intelligence. "Roughly 20 percent of BBVA's and Santander's loan book is in Latam, so they have suffered a shift in sentiment."
Standard Chartered shares fell the most among European banks outside Greece since the beginning of August. Santander, BBVA and HSBC Holdings Plc also tumbled more than an index of European bank stocks.
Spokesmen for all four lenders declined to comment for this article.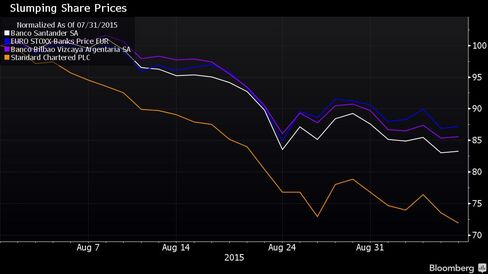 While a focus on emerging markets helped the banks weather the financial crises of recent years, it now leaves them exposed as those economies weaken. A blow to earnings would make it harder to build up capital without tapping investors. Santander, which already turned to shareholders for funds earlier this year, still has a lower capital buffer than many large European peers.
Commodity Retreat
Greater China accounted for almost two-thirds of Standard Chartered's operating profit in the first half. As growth in the region slows, the bank's loan impairments will rise to $3.3 billion this year and next, or about a third more than previously predicted, according to estimates from Jefferies International Ltd. analyst Joseph Dickerson. That follows a 70 percent jump to $1.7 billion in the first half.
Two years of falling revenue and a plummeting share price led to the ouster of former CEO Peter Sands, amid predictions the London-based bank will have to raise as much as $10 billion of capital. Standard Chartered plans to cut as many as 250 of about 1,000 managing directors as part of Winters' plan to restore investor confidence, people with knowledge of the matter said Friday.
For HSBC, the Asia tumult comes two months after CEO Stuart Gulliver announced plans to shift investment to the region, which accounted for 69 percent of first-half earnings. HSBC is selling its Brazil operations and is in talks to unload its Turkish business as part of a retreat from low-returning country units.
Santander Evolution
Under former Chairman Emilio Botin, Santander spent more than $70 billion transforming itself from a provincial lender into Europe's second-biggest bank by market value with a string of acquisitions, including Banco Real in Brazil and Abbey National in the U.K.
Santander generates about a fifth of profit from commodities-rich Brazil, which relies on Chinese demand for metals and is heading for the worst recession since 1990. President Dilma Rousseff is facing calls for impeachment as her popularity fades.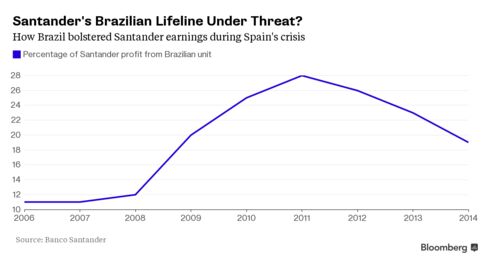 "The economy is in pretty bad shape in Brazil and the political situation is not getting any better," said Andrea Williams, a portfolio manager at Royal London Asset Management Ltd.
Santander seeks to balance growth offered by emerging countries with the stability of mature economies like the U.K. and Germany. The quest to add emerging-markets revenue helped Santander and BBVA withstand Spain's five-year economic slump.
Santander CEO Jose Antonio Alvarez told analysts in July the bank would cut types of lending in Brazil that are most prone to losses, and said the medium- and long-term potential for the country remains strong.
BBVA derived two-thirds of its operating income from Mexico, South America and Turkey in the first half. While some economists are paring their growth forecasts for Mexico, gross domestic product is still expected to expand 2.5 percent this year, based on a Bloomberg survey.
In Turkey, however, a political impasse, heightened security risks and accelerating inflation pushed the lira to a record low against the dollar. BBVA owns almost 40 percent of Turkiye Garanti Bankasi AS, the country's largest bank.
"The question for the big Spanish banks has been how to repair their balance sheets through retained earnings," said Tano Santos, a finance professor at Columbia Business School in New York. "Anything that affects their ability to do that is going to come back to haunt them."


Before it's here, it's on the Bloomberg Terminal.
LEARN MORE