Draghi Spurs Record Long-Bond Sales for European Companies
Issuance of notes due in decade or more highest this century

Businesses raise 225 billion euros, locking in low rates
Companies in Europe have taken on more long-term debt this year than at any time this century as they seek to lock in low borrowing costs.
The region's businesses have sold 225 billion euros ($251 billion) of bonds maturing in a decade or more this year, the most in annualized data compiled by Bloomberg going back to 1999. Bonds due in more than 10 years account for 36 percent of all investment-grade notes sold in 2015, more than any other maturity range, according to data compiled by JPMorgan Chase & Co.
Allianz SE and Bayer AG are among companies that sold bonds due in as much as 60 years, taking advantage of cheap financing costs for as long as possible. Investors were attracted to the debt as yields suppressed by European Central Bank stimulus sent them in search of riskier assets. The window of opportunity for borrowers may be narrowing as the region's growing economy increases inflationary pressure and the Federal Reserve prepares to lift interest rates.
"Yield-driven investors were forced to go further along the curve and take more risk in their credit portfolios when the rates went lower and lower," said Jeroen Van Den Broek, the head of developed-markets credit strategy and research at ING Bank NV in Amsterdam. Insurance companies led purchases of the bonds, "then benchmarks that other investors follow started to become longer and non-insurance companies looked to buy more longer-term credit."
Increased Borrowings
More than half of the companies in the Stoxx Europe 600 Index have increased total borrowings this year, according to data compiled by Bloomberg. Companies included on the gauge amassed an average 11 billion euros of debt due in more than a year, the most since 2012, according to the most recent financial filings compiled by Bloomberg.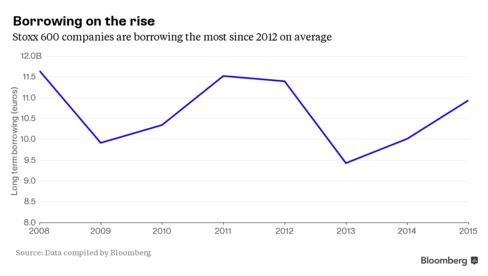 Euro-area companies have issued 1.75 trillion euros of loans of all maturities this year, up 9.7 percent from this time in 2014 and the most since 2009, according to data compiled by Bloomberg. Bond sales are accelerating, with companies raising 30 percent more since the end of June than in the same period last year, the data show.
Normal Environment
Increased indebtedness reflects a "return to normal," said Philipp Kuckuck, the director of corporate finance at Stuttgart-based German auto-parts maker Mahle International GmbH, which sold 500 million euros of seven-year bonds in May.
"After the financial crisis, many corporates had deleveraged significantly and are now returning to a more normal environment," Kuckuck said.
British American Tobacco Plc sold 3 billion euros of bonds, including notes due in 2045, to take advantage of low interest rates and to spread the company's debtload across maturities "to obtain optimal pricing," said Oliver Wolfensberger, head of corporate finance and financial risk in London.
The average cost of borrowing for investment-grade companies in Europe reached a record low of 0.85 percent in March and is now 1.37 percent, according to Bank of America Merrill Lynch indexes. ECB President Mario Draghi last week affirmed his commitment to economic stimulus that has helped suppress yields.
"There is certainly scope for companies to increase leveraging, and that is likely to happen, to some extent, as CEOs grow in confidence," said Julian Marks, a London-based portfolio manager at Neuberger Berman, which oversees $250 billion of assets. "A lot of companies operated very defensively given the huge uncertainties over Europe. More action from the ECB and gaining control over the euro-zone crisis have been very important in changing this."
Before it's here, it's on the Bloomberg Terminal.
LEARN MORE