China SOE Reform Plan Said to Seek Share Listings, Privatization
Some commercial SOEs in competitive industries may sell stakes

Plan promotes mergers and restructurings of state-run firms
China plans to sell shares of some state-owned enterprises and consolidate others in a plan that paves the way for the country's largest overhaul of its bloated businesses since the late 1990s.
China will "forcefully push state-owned enterprises to reform and go public and create conditions for conglomerates to list all their assets," according to a document jointly issued by the Communist Party Central Committee and the State Council seen by Bloomberg News. Government-run companies in competitive sectors must seek more diversified ownership by selling stakes to state and non-state investors, the document showed.
The government also plans to create special investment vehicles to manage state-owned capital and may merge or restructure state companies, according to the document. They also will promote cross-shareholding and "blending" between state-owned capital and private investments.
With the world's second-largest economy posting the slowest growth in a quarter century, China's government branches will next start to map out detailed plans that potentially affect tens of thousands of companies with estimated assets of about $16 trillion. A quicker pace of reform may spur speculation over which ones will be reorganized, potentially fueling further volatility for stocks in Shanghai and Hong Kong.
Two Categories
The new guidelines for state companies include splitting them into two main groups -- those that are commercially oriented, and others that are focused on not-for-profit operations, the document shows.
China has approved the basic SOE reform guidelines and seeks basic completion of the plan by 2020, the official Xinhua News Agency reported Tuesday.
State-run companies have been a drag on economic growth. Their output slumped in July to the lowest level since December 2008, National Bureau of Statistics data show.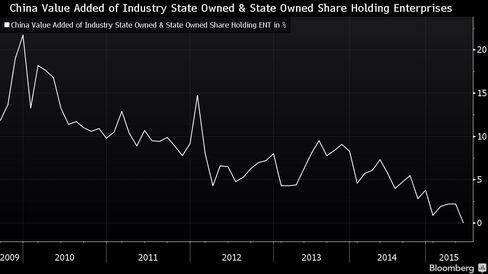 Separately, the State-owned Assets Supervision and Administration Commission -- the agency overseeing the government's companies -- said the reform guidelines will be released soon. SASAC didn't reply to a faxed request for comment.
Communist Leadership
Current state owned-asset supervisors should shift from managing individual enterprises to state-capital management, according to the proposal. As part of the reforms, one principle is to enhance leadership of the communist party in the state-owned enterprises.
JPMorgan Chase & Co. estimates there are more than 150,000 SOEs across the country, accounting for 17 percent of urban employment and almost 80 percent of the CSI 300 Index in China.
The last time China made a big push to reform its industries was in the 1990s under then-Premier Zhu Rongji. That drive resulted in more than 60,000 business closures and 30 million layoffs, according to JPMorgan.
— With assistance by Heng Xie, and Steven Yang
Before it's here, it's on the Bloomberg Terminal.
LEARN MORE