Carmakers' China Woes Poised to Worsen as Dealer Profits Slump
Profits fell 29% in first half on slowdown in China car sales

Automakers face risk of more payouts if dealer profits worsen
Chinese car dealers suffered a plunge in first-half profits as demand slowed in the world's largest vehicle market, threatening to further dent sales and hurt automaker margins.
The combined net income at the eight Hong Kong-traded Chinese car dealers fell 29 percent in the first six months, according to data compiled by Bloomberg. The slump has eroded the chances that profits will meet analyst expectations for a 21 percent gain for the full year.
Car dealers have underperformed the market this year in Hong Kong, and automakers may look back on 2015 a decade from now as the turning point for China's auto industry, according to Sanford C. Bernstein Co. Companies from Volkswagen AG to BMW AG have given out unprecedented financial assistance to dealers in the past year as demand slowed with the economy, while the biggest plunge in Chinese equities since 1996 shook consumer confidence and drained funds for big-ticket purchases.
"If dealers' profits keep worsening, carmakers will have to bail them out by offering rebates and lowering inventory," said Robin Zhu, an auto analyst at Sanford C. Bernstein "They can't let dealers die. This could further erode their margins and affect sales."
The average profit margin from selling a new car slid to 3.3 percent in the first half from 4.8 percent the same period a year earlier, according to Bernstein. Chinese dealers are overly reliant on selling new cars for profits while U.S. retailers generate substantial earnings from trading used vehicles and offering auto financing, said Zhu.
The Passenger Car Association is scheduled to release August sales figures Wednesday and the China Association of Automobile Manufacturers the day after. Car sales fell 6.6 percent in July to a 17-month low as deeper discounts failed to revive demand.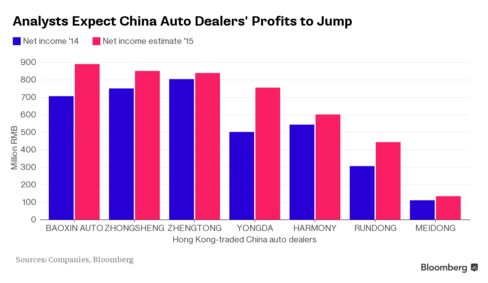 Analysts may be overly optimistic about profits at Chinese car dealerships this year if history is any guide. Last year, net income estimates exceeded reported earnings by 29 percent, while in 2013, the gap was 7 percent, according to data compiled by Bloomberg.
Chinese car dealers can boost their profit margins if they reduce their dependence on new-vehicle sales, which account for almost half of their profits, compared with less than 20 percent for North American retailers, according to data compiled by Bloomberg Intelligence.
Used-car sales in China will increase to more than 10 million vehicles by 2017 from 6 million in 2014, driven by the emergence of online auction sites and appraisal companies that make transactions more transparent, according to UBS AG.
"New-car sales margins are definitely getting thinner and thinner," said Winhon Chow, a managing partner at Deloitte LLP in Shanghai, who tracks the auto retail industry. "If the dealers are going to make money, they have to move from new car sales to aftermarket."
For Related News and Information:
China Auto Sales Slump to 17-Month Low Despite Price Cuts (3)
Chinese Spurn Unprecedented Discounts as Slowdown Hits GM, BMW
Honda, Toyota Boost China Deliveries Amid Industrywide Slowdown
Top Transportation Stories:TRNTOP
Bloomberg Industries:BI AUTM
Most-Read Auto Stories:MNI AUT
Before it's here, it's on the Bloomberg Terminal.
LEARN MORE