SNB Foreign-Currency Reserves Hit Record in August on Weak Franc
The Swiss National Bank's foreign-currency reserves rose 1.7 percent to a record in August, a month the franc depreciated against the euro.
The reserves increased to 540.4 billion francs ($555 billion) at the end of last month, from a revised 531.2 billion francs in July, according to data published on the SNB's website on Monday.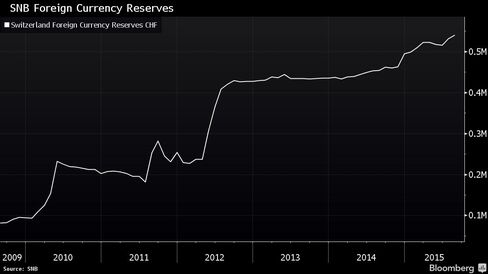 Much of the reserves were accumulated during interventions to weaken the franc, including between 2011 and early 2015 when the SNB was enforcing an upper limit on the currency of 1.20 per euro.
In August, the franc declined roughly 2 percent against the euro, according to data compiled by Bloomberg, pushing up the value of the SNB's foreign-currency holdings in franc terms. At the end of the second quarter, 42 percent of the central bank's holdings were in euros.
"They probably didn't intervene at these levels," said Alessandro Bee, strategist at Bank J Safra Sarasin Ltd. in Zurich said. "It's due to the exchange rate."
At a speech in Zurich on Sept. 1, SNB President Thomas Jordan once again vowed to intervene in currency markets -- if necessary -- to keep the franc in check. In a bid to dissuade investors from holding francs, the SNB has cut its deposit rate to minus 0.75 percent.
Jordan said that while that level was "not the absolute bottom," there are limits to how much lower it can go as people would resort to holding cash at some point to circumvent the charge. SNB policy makers are scheduled to announce their quarterly monetary policy assessment on Sept. 17.
SNB Spokeswoman Silvia Oppliger declined to comment on the data.
Before it's here, it's on the Bloomberg Terminal.
LEARN MORE