Russia Will Question Ukraine's IMF Program If Bond Not Paid
Finance Minister Siluanov says Russia will seek legal action

Ukraine has asked Russia to accept a 20% haircut on the bond
Russia stepped up pressure on Ukraine to pay back its $3 billion bond due in December by threatening to challenge an International Monetary Fund bailout loan if payment isn't made.
"We will turn to the relevant judicial bodies" if Ukraine fails to pay in full, Finance Minister Anton Siluanov told reporters in Moscow on Monday, reiterating that the country won't negotiate the terms. "Also, we are members of the IMF and we will question the validity of the IMF program to Ukraine."
The debt owed to Russia remains a wild card in Ukraine's $23 billion debt restructuring because of a dispute over whether the bond should be classified as official aid or a private security. While Ukraine argues the latter and insists Russia should accept the same terms as other creditors, Russia has said the notes were purchased as a form of government aid in 2013.
This classification is important because IMF policy prohibits lending to countries that are in arrears to official creditors, thereby calling into question the validity of a $17.5 billion rescue loan for Ukraine. Last month, Ukraine struck a restructuring deal with bondholders led by Franklin Templeton that included a maturity extension and 20 percent principal writedown.
"If Ukraine doesn't pay in December, Russia will try to veto the IMF program, which would make the program continuation complicated," Vadim Khramov, an economist at Bank of America Merrill Lynch, said by phone from London. "The IMF has a good relationship with Russia and would probably prefer to choose a path of cooperation."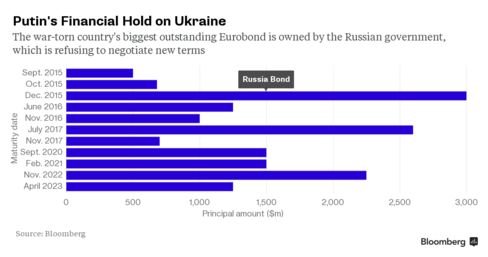 The preliminary view by staff at the Washington-based fund is that the Russian bond should be classified as official debt, a person familiar with the matter told Bloomberg in June. It's up to the crisis lender's board to make the final call, IMF Managing Director Christine Lagarde said during a visit to Kiev on Sunday.
Relations between the neighboring countries have soured since Putin bought the debt in December 2013 from the regime of his ally Viktor Yanukovych, just two months before Yanukovych was overthrown in a bloody uprising in Kiev. The ouster paved the way for the annexation of Crimea and led to more than a year of fighting between government troops and separatists in Ukraine's easternmost regions, battering the economy into a recession and draining reserves.
While the security took the form of a tradeable Eurobond, it was sold at a 5 percent coupon, compared with a rate on 2017 debt at the time of about 12 percent.
Ukrainian President Petro Poroshenko said on Sunday that Russia will "get no privileges" over private creditors and Finance Minister Natalie Jaresko said in August that paying the bond in full was "not an option."
A creditor group that owns half of Ukraine's sovereign bonds agreed last month to accept new terms that included the so-called haircut, a four-year maturity extension and coupons of 7.75 percent. Other bondholders, including Russia, will be asked to vote on the deal this month.
Since the agreement was unveiled on Aug. 27, Ukraine's $2.6 billion of bonds due in July 2017 have rallied 20 cents to 75.75 cents by 10:45 a.m. in Kiev.
Before it's here, it's on the Bloomberg Terminal.
LEARN MORE