Kazakh Mogul Turns to China for Funds After London Listing Flop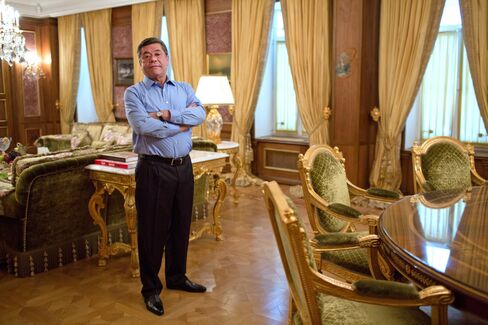 Kazakh mining tycoon Patokh Chodiev has faced down assassination and extortion threats and thwarted a cash shortage by flying in banknotes and storing them in his pool.
The challenge he's still trying to overcome is the departure of his metals empire, Eurasian Resources Group, from the London Stock Exchange amid a fraud probe.
"The biggest setback is that whole saga with the listing and delisting -- the heights we reached and the gradual fall," Chodiev, 62, said earlier this year at his 19th century mansion in central Moscow, once the home of a cotton merchant arrested by the Soviets for contact with British diplomats.
Burdened with more than $7 billion in debt, Eurasian Resources has grappled with a tarnished image hindering work with international banks and a global commodities slump that cut prices for its ferrochrome by almost half since 2008. The company Chodiev and his partners started building in the turbulent post-Soviet years peaked with a market capitalization of 19.8 billion pounds in May 2008, just months after its London initial public offering.
Beleagured by mounting debt, internal disputes and a U.K. fraud probe, the value plunged to less than 3 billion pounds before the partners took the company, then known as Eurasian Natural Resources Corp., private in 2013. It's now looking to banks in Russia and China to refinance and expand.
China Loans
Eurasian Resources is seeking as much as $5 billion of projects with China, Chodiev said. He spoke in an interview in February. His daughter Mounissa asked to delay a planned second interview until after Kazakhstan's presidential election in April and hadn't rescheduled as of Monday.
During the Kazakh leader's visit to Beijing last week, Eurasian Resources signed a preliminary accord with Chinese lenders to borrow about $2 billion, according to its press service. It also agreed on a $700 million loan for a project in the Democratic Republic of Congo.
That follows memorandums with Russia's state-controlled VTB Group and Sberbank OJSC in June that may allow the company to extend loan payments to 2021. The banks didn't comment on the timing for any final decisions. VTB said talks are constructive.
A diamond ring glinting from his right hand as he sipped from a piala used for tea in his native Uzbekistan, Chodiev said he has remained optimistic the company will rally. Ebitda may reach $2 billion this year and climb to $6 billion if new projects succeed, he said in February. That compares with $4.2 billion in 2008, according to ENRC's annual report.
Empty Pool
Navigating the collapse of the Soviet Union left him no stranger to tricky financing challenge. In 1991, he and his partners couldn't find rubles for their businesses. He airlifted the cash from Latvia, only to have banks refuse his deposits.
"We couldn't find a better place than an empty swimming pool" at his residence in the Almaty foothills, Chodiev, who had a net worth of about $2 billion according to the Bloomberg Billionaires Index, said in February. The money lasted six months.
Chodiev and his partners Alexander Machkevitch and Alijan Ibragimov gained control of Kazakh state aluminum assets in 1994 and later adding chrome and iron-ore. They faced down "broad-shouldered boys" who demanded metal supplies without prepayment and in 1995, Chodiev said he escaped a plot to kill him in Moscow.
The partners decided to expand beyond Kazakhstan with the London IPO in 2007 and acquisitions of iron-ore, copper and cobalt assets in Africa in 2008 to 2010.
Congo Mines
"The company's global expansion strategy was poorly executed," Alon Olsha, a senior metals analyst at Macquarie Group Ltd., said by e-mail. They "overpaid for bad assets" and didn't successfully develop what they got, he said.
Eurasian Resources didn't immediately comment.
Legal snarls arose with the purchase of mines in the Democratic Republic of Congo, leading to a $1.25 billion settlement with a former owner in January 2012.
Then in April 2013, the U.K. Serious Fraud Office said it was investigating the company's Kazakh and African businesses. The probe is partially open, after the Kazakhstan inquiry was dropped, according to Eurasian Resources.
"About three years have passed since they started the probe and they're where they started," Chodiev said in February. He said the company hasn't done anything illegal.
Chodiev said he and his partners had to take ENRC private in November 2013 to preserve the business. Investors said the deal, involving the Kazakh government, undervalued the company.
At his mansion, rented from Russia's Foreign Ministry, Chodiev said he's learned from the experience, and he won't rule out a return to the stock market, possibly in Hong Kong.
"First, we have to get back on our feet economically," he said.
Before it's here, it's on the Bloomberg Terminal.
LEARN MORE