This Brazilian Beef Company Has a $2 Billion Stake in Venezuela's Future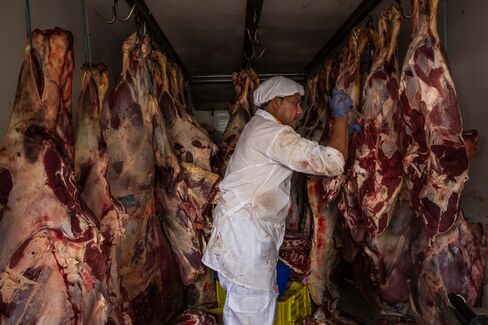 In June, the president of Venezuela's congress, Diosdado Cabello, spent four days in Brazil. It wasn't a secret. He was accompanied by other officials, tweeted that he was "working for the homeland" and met with the president. But it was an unusual state visit.
His first major meeting was with Joesley Batista, the eldest of a billionaire clan of five siblings who control JBS SA, the world's largest meat packer. On three days, Cabello went to JBS plants. He dined with the Batista family.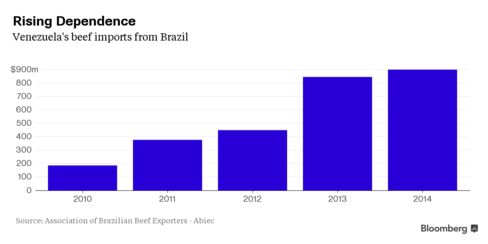 If spending so much time with a foreign meat producer seems surprising, it tells a great deal about the co-dependent relationship emerging between one Brazilian company and the government of Venezuela. And it is a lesson in the Venezuelan government's priorities these days. December elections are looming as hyperinflation, falling production and rising crime have led to food rationing, riots and looting.
"The government's main worry now is food supply," Fernando Portela, executive director of the Venezuelan-Brazilian Trade Chamber, or Cavenbra, said. "They need to keep supplying shops to stay in power."
Only one in five voters say they want President Nicolas Maduro to serve out his term ending in 2019. The ruling party could lose control of congress for the first time in 16 years.
Cabello described his trip to Brazil as negotiating food and medicine to win the "economic war" capitalists are waging against his country. Requests to the Information Ministry for further comment from Cabello, the Food Ministry and the president's office went unanswered.
Special Arrangements
For JBS, the Venezuelan market now has special significance. It has a $2.1 billion contract and provides almost half the meat and a quarter of the chicken eaten by 28 million carnivorous Venezuelans. The country accounts for about 10 percent of JBS's export revenues, which some analysts have labeled a risky position, given Venezuela's near default status. JBS doesn't see it that way.
"For JBS, it was an opportunity to do something nobody else did in a country which has an important demand potential," Miguel Gularte, president of JBS Mercosul, said in an interview. By taking over the packaging and distribution of its products in Venezuela, JBS also has been able to sharply reduce the time it takes to get to store shelves.
JBS has an arrangement other companies do not. In 2014 it sold $1.2 billion of food to the Venezuelan government and was paid within 90 days, according to documents prepared jointly by the company and the state import monopoly Corpovex.
Unpaid Invoices
By contrast, numerous local and foreign corporations in Venezuela haven't been able to obtain rationed dollars from the government in years. Ecoanalitica, a Caracas-based consultancy, notes that the Venezuelan government has $28 billion of unpaid invoices to private companies.
Gularte said JBS expected to expand sales to Venezuela by 20 percent in 2015. The company is in talks with Credit Suisse AG to structure financing for further growth there.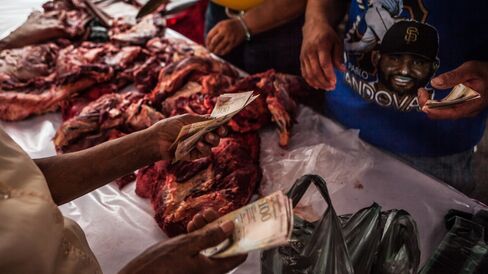 "For Venezuela, it's an advantage to negotiate with a single multi-protein company with an integrated logistic platform instead of buy the chicken from one company, the beef from another," Gularte said. "Venezuela found a partner that respects it."
Politics, both Brazilian and Venezuelan, lurk in the background. The countries' ruling parties have grown mutually supportive in the face of crises, with Maduro defending Brazilian President Dilma Rousseff against impeachment calls as she criticized U.S. sanctions on his government. The JBS deal provides a Brazilian lifeline to Maduro's government as it endeavors to stock food shelves in advance of elections.
Biggest Political Donor
Last year, JBS was the biggest donor to Rousseff's Workers' Party. The company's growing donations to Rousseff, as well as her opponents, were cited in a congressional inquiry of BNDES, the Brazilian state development bank, which owns a quarter of the beef maker. There was, however, no state financing for JBS's Venezuelan deal and Gularte said the Brazilian government was not even aware of it. JBS declined to comment on the BNDES inquiry.
The growing ties between JBS and the Venezuelan government are noteworthy in a country where imports have plummeted due to a collapse in oil, the country's main revenue source, and where food companies have been targeted. In July, troops occupied warehouses of the largest local food producer, Empresas Polar, after the government accused it of sabotaging the economy by cutting output. The Caracas-based company says it's owed $463 million by Venezuela's currency regulators.
Credit Risk
JBS's Brazilian competitors have also felt the pain. Sao Paulo's BRF SA and Marfrig Global Foods SA earlier this year stopped shipping to Venezuela amid rising credit risk. Minerva SA said it only exports to the country when paid in advance. Their withdrawal from the Venezuelan market helped the Batistas' share to skyrocket.
Every 10 days, a JBS-contracted Hamburg Sud liner pulls into Venezuela's biggest port, Puerto Cabello. On a recent August afternoon, Brazilian soy flour was unloaded as the steamer San Alvaro neared the docks bearing JBS's meat.
Within two weeks of leaving Brazil, the white refrigerated meat containers are unloaded and dispatched. The state-run Supply and Agricultural Services Corp., or CASA, monitors each container daily. Port officials say the subsidized food is channeled to state shops in areas most threatened by riots or the opposition's campaigning.
Colombian Border Shut
Recently, the Maduro government declared a state of emergency near part of the Colombian border, saying the smuggling of goods worsened shortages, a move critics consider scapegoating to divert attention from failed policies.
Compared with the price and efficiency provided to JBS goods, other foodstuff faces very different prospects. A private Venezuelan slaughterhouse, for example, sells meat from a locally-reared cow to a private supermarket for about 16 percent of the price of Brazilian meat, according to Franz Rivas, executive director of the National Meatpackers Association, or Asofrigo. And a container imported by a private Venezuelan company may sit for weeks on a ship outside the port and take up to two months to clear customs, according to Cavenbra and the Puerto Cabello Chamber of Commerce.
The Venezuelan government's land redistribution program -- part of the socialists' confrontation with the private sector -- has driven many cattle ranchers out of business. It has reduced domestic beef production from 60 percent of the market a decade ago to 20 percent, according to the country's meat council and the U.S. department of agriculture.
Venezuela has gone in the past year from being the world's second-biggest cattle importer to bringing in almost none, according to the USDA. Local slaughter has collapsed so much, Rivas said, that every Asofrigo member now operates at a loss.
Before it's here, it's on the Bloomberg Terminal.
LEARN MORE