Congo Opposition Plans Demonstration to Press Election Demands
Leaders led protests in January in which 36 people were killed

Opposition wants presidential elections by November 2016
The Democratic Republic of Congo's main opposition leaders called for a demonstration next week to press demands that a presidential vote set for 2016 goes ahead as scheduled, amid delays in preparing for other elections due in the next 14 months.
The group of politicians including Vital Kamerhe, leader of the Union for the Congolese Nation, have urged supporters to attend a "public meeting" in the capital, Kinshasa, on Sept. 15, Martin Fayulu, head of the Commitment to Citizenship and Development party, said in an interview. In January, the two men led anti-government protests in the city that led to clashes in which Human Rights Watch said at least 36 people were killed.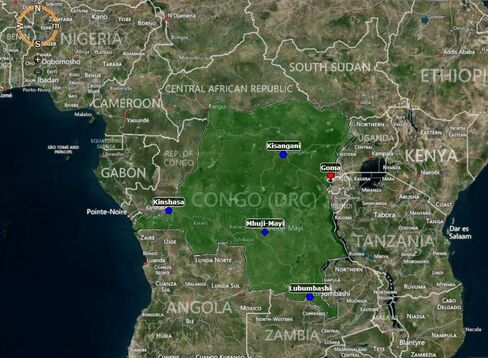 Congo, Africa's biggest copper producer and the world's largest source of cobalt, next month plans to hold the first of six elections that will culminate in the vote for a new president in November 2016. The country's electoral commission said last month it had extended the period for politicians to submit their candidacy for a gubernatorial vote in 21 provinces, the second postponement since the election calendar was announced in February. On Sept. 3, Prime Minister Augustin Matata Ponyo said the government has insufficient funds to organize the gubernatorial poll, Radio Okapi reported.
Term Limits
The delays signal that President Joseph Kabila may be seeking to extend his mandate, Fayulu said. The 44-year-old leader, in power since his father was assassinated in January 2001, must step down next year to comply with constitutional term limits. Kabila last month reaffirmed his "commitment to lead the Congolese people to elections," Agence France-Presse reported on Aug. 26.
"The objectives are clear," Fayulu said Aug. 31. "We need a consensual electoral calendar that ensures presidential and parliamentary elections take place, preferably before November 2016, so that on 20 December a new president can be inaugurated."
The opposition group, la Dynamique pour l'Unité d'Actions de l'Opposition, distributed fliers last week in Kinshasa calling on supporters to say "no to delays" and calling political change "non-negotiable." Congo's parliament is set to open for its autumn session on the day the group wants the demonstration to be held.
The ruling Alliance for a Presidential Majority has urged opposition parties to participate in a national dialogue to discuss preparations for the election program. Fayulu said that dialogue is unnecessary.
'No Dialogue'
"We do not need a national dialogue," he said. "We need to respect the constitution and the calendar for the parliamentary and presidential elections. We need a credible voter list and to ensure the independence of the National Electoral Commission."
The current electoral register was last updated in 2011. Opposition politicians are demanding a comprehensive update of voting lists to include those who have now reached voting age and to remove deceased and fictitious voters. They claim that millions of false voting cards are currently in circulation.
Fayulu said a review of the electoral register could be completed in nine months, allowing for national elections to take place on time if other votes were postponed.
"The government must delay the local elections; the priority must be the presidential and parliamentary elections," Fayulu said.
Before it's here, it's on the Bloomberg Terminal.
LEARN MORE