The BBC has unveiled a proposal to launch a radio service in North Korea, but the U.K. government will never fund it without a dramatic shift in foreign policy, experts say.
"The BBC is trying to justify its public funding by showing that it can do something political that the private sector wouldn't do," said Aidan Foster-Carter, a senior research fellow specializing in both Koreas at Leeds University. "It's a clever move and will earn political brownie points, but it won't happen without government money. The North Korean government would be furious."
Michael Glendinning, who has campaigned for the launch of a BBC service in the so-callled hermit kingdom, is just as skeptical.
He points out that a BBC report, titled The Future of News, from earlier this year mentioned that there would be such a proposal, but it would require between £900,000 ($1.4 million) and £1.2 million in funding from the government per year according to the European Alliance for Human Rights in North Korea (EAHRNK).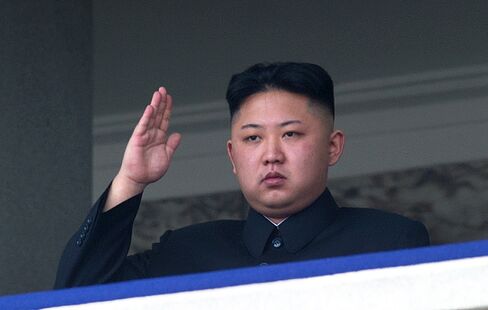 "I don't think it will happen any time soon. The government is opposed to it. Officially they say it's about money, but we suspect they don't want to jeopardize diplomatic relations," said Glendinning, who is director of EAHRNK.
The U.K. established diplomatic relations with North Korea in 2000, but operates a "critical engagement" policy. This means pressing human rights issues internationally and using "soft power" projects on the ground, such as showing films and providing English language courses to Pyongyang-screened participants, but not doing anything to measurably improve humanitarian conditions.
"A BBC service would, in the eyes of the Foreign and Commonwealth Office, cause too many diplomatic problems. It would be a change in policy because the U.K. would be engaging the many rather than the hand-picked (by North Korea) participants for their current projects," said Glendinning.
Freedom of Expression
The BBC argues that the expansion of the World Service to North Korea, as well as other markets including Russia, Ethiopia and Eritrea, is about freedom of expression and providing a counterpoint to foreign state-sponsored rivals such as RT (Russia Today), Al-Jazeera and China Central Television.
"The BBC has never been impartial on the importance of democracy and a free press," said a BBC spokesman. "We have a strong commitment to uphold global democracy through accurate, impartial and independent news."
Last year the broadcaster was forced to take on the £245 million annual cost of the World Service, which had previously been funded by the Foreign and Commonwealth Office.
Despite this, the BBC seeks further government funding to support the expansion proposals, announced by BBC Director General Tony Hall today. The broadcaster will match any additional public funding if it can continue to commercialize its money-spinning Global News operation, which generates around £100 million in advertising and sponsorship each year.
If a North Korea service were to get funded, it would take the form of a shortwave radio daily news service. "It's not clear how much reach this would have because of the use of radio signal jammers," said Glendinning, "although they are intermittent now due to power shortages."
The BBC wouldn't be the only foreign organization to try and broadcast in North Korea. The U.S. government funds Voice of America and Radio Free Asia broadcasts, while South Korea has three stations including Voice of Freedom radio that transmit over the border.
Before it's here, it's on the Bloomberg Terminal.
LEARN MORE