Angola Reduces Kwanza Value in Dollar Sale to Money Changers
Regulator offers $10 million to bureau de change chains

Kwanza has dropped 19 percent against dollar this year
Angola's central bank sold $10 million in foreign exchange at an average rate of 149.87 kwanza per dollar to 33 of the nation's 48 registered money changers.
Rates at the Sept. 2 sale varied from 148.50 to 155, the National Bank of Angola said in a statement on its website on Monday. The regulator also sold $281.7 million in foreign exchange in a separate auction at an average rate of 126.411 kwanza per dollar, compared with 128.409 in the week ended Aug. 28, it said. The kwanza was unchanged at 126.4068 per dollar by 2:46 p.m. in the capital, Luanda, according to data compiled by Bloomberg.
"The amount traded is insignificant compared to the average weekly volume traded, so I would hesitate to read too much into" the auction to bureau de change chains, Anthony Lopes Pinto, the managing director of Luanda-based Imara Securities Angola SCVM SA, said in an e-mailed reply to questions. "There is still a significant difference between official and parallel market rates -- 126 vs 190 -- which indicates continued strong demand for dollars. There continues to be an argument in favor of further currency weakness, however, this is likely to continue to be at a gradual pace."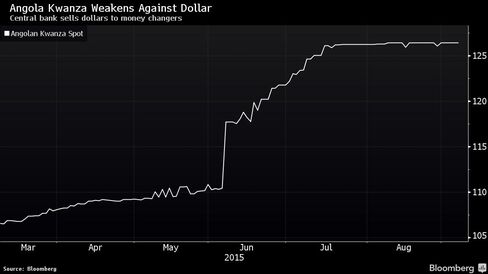 The continent's second-largest oil producer is struggling to cope with crude prices that have dropped more than 50 percent over the past 12 months. The commodity accounts for almost all exports from the southwestern African country. The central bank raised its benchmark interest rate four times this year to 10.5 percent and has run down foreign-exchange reserves to help bolster the currency, which has weakened 19 percent this year against the dollar.
Currency devaluations from Kazakhstan to China are heaping pressure on African central banks like Angola and Nigeria to relinquish control of their exchange rates as commodity prices plunge and the Federal Reserve prepares to raise interest rates, luring money that has flooded into emerging and frontier markets back to the U.S.
The kwanza has averaged 126.288 per dollar since mid-July, reaching a record low of 126.8367 on Aug. 12. The central bank in June devalued the currency's official rate by almost 6 percent.
Before it's here, it's on the Bloomberg Terminal.
LEARN MORE