Trader Promises Price War to Undercut Africa's Biggest Exchange
JSE to face competition for the first time in its history

New exchange wants to cut trading fees by as much as 50%
Kevin Brady, once head of equity trading for South African-born bank Investec Ltd., wants to compete with Africa's biggest and oldest financial market, JSE Ltd. To do that he plans to undercut the monopoly's fees.
"Our target is to make the end-to-end cost of an equity trade between 30 to 50 percent cheaper," Brady, 48, said by phone from Johannesburg on Sept. 3. "Our value proposition is about giving people a choice and a high-performance platform with top-end technology and a material reduction in price."
The new exchange, named A2X, may open for trade in the second half of next year if the regulator, the Pretoria-based Financial Services Board, approves its license application, which was first lodged in May. Brady is starting it with partners Ashley Mendelowitz, formerly of technology company Peresys Ltd., and Sean Melnick who co-founded investment firm Peregrine Holdings Ltd.
"If people are able to get a license on the same basis that we operate, then I am up for the competition," Nicky Newton-King, chief executive officer of the JSE, said by phone on Sept. 3. "Our pricing isn't out of the ballpark in global terms. Our general policy is to reduce our pricing every year. When they come out with pricing, we'll see how we need to react."
Johannesburg's stock exchange started in 1887, spurred on by the gold rush in South Africa. The companies it lists have a market value of about 9.92 trillion rand ($713 billion), making it the largest exchange in Africa, according to data compiled by Bloomberg. In the six months to June, the JSE recorded revenue of 1.01 billion rand and increased pretax profit 28 percent to 585.4 million rand from a year earlier.
Dependable Regulation
"With a 50 percent pretax margin, there is absolutely space for competition," Brady said.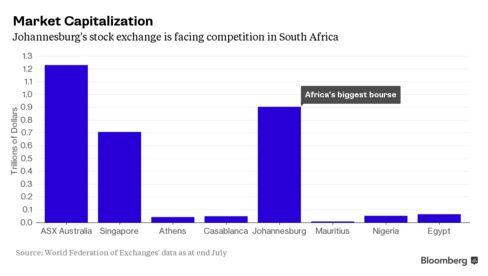 Of course, it's not just about the price. Investors trust exchanges that can offer liquidity, price discovery and transparency with dependable regulatory oversight. While A2X will offer the full gamut of trading, clearing and settlement services along with surveillance and regulation, Newton-King believes introducing competition in a relatively small market may in turn hurt investors.
"I think competition in this market is a very bad idea," she said. "Fragmenting price discovery will increase the spread on shares. Settlement risk increases. For the market as a whole there are some serious negative potentials."
Australian Archetype
Brady's example to counteract Newton-King's argument is Australia's Chi-X. Started in November 2011, Chi-X had an average daily trading of A$296 million ($207 million) in 2014, compared with A$1.6 billion on the JSE's more direct counterpart, the Australian Securities Exchange, according to data compiled by Bloomberg. Since Chi-X began, prices and costs have declined, investors have used technology to ensure price discovery, and liquidity and spreads have improved, Brady says.
Risks aside, if A2X is successful and able to settle trades while providing appropriate levels of regulation, it may help boost South Africa's economy and increase the total trade in equities. The country, Africa's most developed nation, needs to attract more investors as growth slows amid power outages and rising inflation.
"If A2X obtains a license, it will immediately be negative for the JSE, even if A2X do not gain much market share or are not profitable for a number of years, as it will force the JSE to reduce pricing in cash equity products," Harry Botha, an analyst at Avior Capital Markets who rates the JSE underperform, said in a note to clients on Aug. 26. "We expect this initial fee reduction to be about 10 percent for trading, and clearing services and this will reduce our earnings forecasts by about 8 percent."
The JSE's share price dropped as much as 3.1 percent to 132 rand in Johannesburg, the lowest intraday level for two months, and was 2.6 percent lower as of 1:48 p.m.. The FTSE/JSE Africa All Share Index declined 0.6 percent.
Entrants Galore
A2X isn't the only wanna-be exchange applying for a license. Another two, called 4AX and ZAR X, want to focus on shares that have been trading over the counter in mostly unregulated environments. That said, only A2X poses any immediate threat to the JSE's business, according to Botha.
"There are a lot of opportunities that come from people trading, but we're not going to make it easy for them to gain traction in any part of our business," Newton-King said. "We have to take the view that we earn trade, so we do what we do better every day."
The new exchange has already noted a pent-up demand among brokers who want to become authorized members and might break even within three years, Brady said, adding that the company will need about 30 staff members when it's operating at full capacity. At first, 50 to 65 stocks with primary listings on the JSE will be able to be traded on A2X.
"We will grow our business according to what our clients want and need and we're starting with a blank slate rather than a lot of legacy systems," Brady said. "The JSE is very protective of its space. It says it welcomes competition, but the proof will be in the pudding. I hope it does."
Before it's here, it's on the Bloomberg Terminal.
LEARN MORE