Toshiba Risk Goes From Worst to Best With Accounting Scandal Fading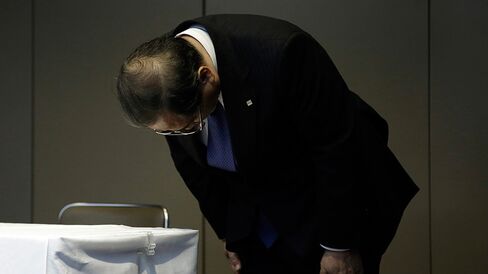 Company posts net loss of 37.8 billion yen last fiscal year

Share price rises 1.8 percent after earnings restatement
Default risk traders are betting the storm over Toshiba Corp.'s accounting scandal is close to blowing over.
The cost to insure Toshiba's debt against nonpayment dropped 12 1/2 basis points since Aug. 3 to 105, according to CMA prices. It's the best performer on the Markit iTraxx Japan credit-default swap index, a turnaround from mid-July when it posted the biggest increase in risk in the week on expectations of writedowns due to irregularities. The Japan gauge has climbed six basis points in the past month.
The manufacturer of chips and nuclear reactors released earnings on Monday after it delayed them last week on the discovery of new accounting irregularities related to a U.S. unit's construction project. The company said it posted a net loss of 37.8 billion yen ($317 million) in the fiscal year ended March 31.
"The company appears to have been able to limit total losses to lower than worst-case estimates," said Toshihiro Uomoto, the chief credit strategist in Tokyo at Nomura Holdings Inc., Japan's biggest brokerage. The losses reported today probably represent a final accounting related to its recent troubles, he said.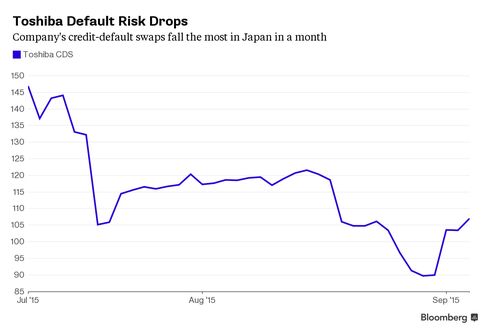 Uomoto has a buy recommendation on Toshiba's bonds and the announcement gives him greater confidence, he said.
While the Tokyo-based manufacturer said on Aug. 18 it expects an operating profit of 170 billion yen and a pretax profit of 140 billion yen for the year ended March 31, it didn't give a prediction for net income at the time. The company has said it will sell some assets to raise money. Its shares rose 1.8 percent to 352.7 yen on Monday, after climbing as much as 5.8 percent during the session following the earnings restatement.
Specializing Business
"The company will probably try to rebuild itself by specializing in nuclear reactors, infrastructure and semiconductors, but the outlook is unclear," said Hiroyasu Nishikawa, an analyst in Tokyo at Iwai Cosmo Securities Co. "This isn't something that's going to be solved in a month or two."
Toshiba generated about 29 percent of its 1.6 trillion yen in sales from electronic devices and components in the final three months of 2014, and 28 percent from its energy and infrastructure operations, according to its earnings filing.
The manufacturer has lost more than $4 billion in market value since announcing on May 8 it has discovered accounting irregularities.
Yukihito Uchida, a spokesman for Toshiba, declined to comment.
Default Odds
Toshiba's probability of debt non-payment within one year has climbed to 0.38 percent from about 0.11 percent in early May before the accounting irregularities were first reported, according to the Bloomberg default-risk model, which considers factors such as share prices and debt levels. The gauge suggests the utility's credit rating has dropped to the lowest investment grade from the third-lowest level.
Standard & Poor's cut its outlook on Toshiba's BBB bond rating to "negative" from "stable" on July 21. That's the second-lowest investment grade.
Toshiba has repeatedly expanded the probes of its financial reports. The investigations led to the resignations of the company's president and his two predecessors and caused at least $1.2 billion in writedowns. It said last week it uncovered irregularities in percent-of-completion accounting related to a U.S. hydro-power unit's construction project.
"This company has a track record of more bad news coming out a while after media reports and its briefings," Nomura's Uomoto said. "Even if one thing is resolved, the market might not be completely reassured. It will take time to digest everything."
Before it's here, it's on the Bloomberg Terminal.
LEARN MORE