Russia's China-Bond Plan Rings Hollow as Reliance on West Abides
ING sees yuan bonds more expensive than borrowing in Europe

Russian government hasn't sold Eurobonds in two years
For all the showmanship, Vladimir Putin's pivot into China's bond market may have little effect on Russia's budget.
As the president toured Beijing last week, his officials broadcast plans for the first-ever government debt sale in China's mainland market. The borrowing will probably be more costly than in Europe, even with the sanctions over Ukraine that have kept Russia out of international bond markets for two years, according to Dmitry Polevoy, the chief Russia economist at ING Bank Eurasia JSC in Moscow.
"Coming to the yuan market now after China is regarded as a new source of economic slump is a bad idea and too late," Lutz Roehmeyer, the director of fund management at Berlin-based Landesbank Berlin Investment, said by e-mail.
The funding plan is a sign of Russia's deepening ties with its biggest trade partner, testing a new source of capital to plug its widening budget deficit. Still, China is only just starting to open its markets to foreign investment and without the support of the government in Beijing, Russian debt could prove a hard sell to locals rattled by the yuan's devaluation in August.
"Considering the specifics of the Chinese market, most likely this bond sale will be more expensive than in Europe," Polevoy said by e-mail. "This is a politically motivated decision. I doubt that the Finance Ministry will be able to borrow any significant sums on the market and fill the budget holes."
Mimicking Euroclear
The yuan debut was unveiled a day after the two countries said they planned to mimic Euroclear Bank SA's bond, stock and currency-settlement services to give Russian issuers direct access to China's mainland bond market. The week before, sanctioned lender Vnesheconombank said it's in talks to sell yuan bonds on the Chinese mainland.
Russian companies have so far only tapped China's offshore market, with sales from Gazprombank OJSC, Russian Agricultural Bank OJSC and VTB Bank OJSC during the past three years.
Declines in Russian Agricultural's 2016 yuan bonds more than doubled the yield since the start of August to 19.74 percent on Friday. That compares with 5.68 percent on its dollar debt due the same year. Gazprombank's 2017 notes in the Chinese currency have also tumbled, lifting the yield 6.89 percentage points in the period.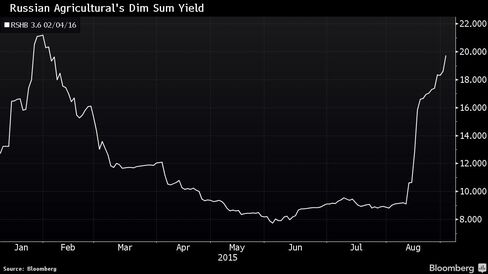 "No sovereign has used the domestic yuan market before, so we may become the first," Russian Deputy Finance Minister Sergey Storchak told reporters in Ankara on Friday. The bond may be penciled into the government's 2016 budget, he said.
Political Move
The necessity of finding alternative credit sources has been amplified by Russia's first recession since 2009 and projections that the government's budget deficit will widen to 3.3 percent of gross domestic product this year, the most since 2010.
In addition to the weight of sanctions, oil, Russia's biggest export earner, has erased half its value in the past 12 months. The ruble was little changed against the dollar on Monday at 68.48 as of 4:54 p.m. in Moscow.
"This is more of a political move," Olga Sterina, an analyst at UralSib Capital in Moscow, said by e-mail on Friday. "Although the partnership with China has been growing over the past few years, not many Russian companies have demand for yuan financing."
Before it's here, it's on the Bloomberg Terminal.
LEARN MORE