Qiwi's 2015 Return Evaporating as Russia Recession Saps Growth
ADRs slide from this year's high as consumers reduce spending

Quarterly revenue buoyed by Otkritie payment systems purchase
Qiwi Plc, the electronic-payment processor that some analysts had seen as among the companies best able to withstand Russia's economic crisis, is succumbing to the recession as shrinking wages curb consumer spending, squelching revenue growth.
The American depositary receipts have plunged 39 percent from this year's high in May, the fourth-worst performance among U.S.-traded Russian stocks in the period. The downturn followed a 87 percent rally and came as the country entered its first contraction since 2009. While some analysts had projected that Qiwi would benefit from more Russians using its electronic payment system amid an economic crisis that disrupted the banking system, sales growth has slowed and the company has halted dividend payments.
"The significant decline in revenue growth from the first quarter and a postponement of dividends are two unpleasant surprises," Ulyana Lenvalskaya, an analyst at UBS AG who cut the stock to hold from buy last week, said from Moscow. "The strong first quarter seems like a one-off, and it now looks like Qiwi isn't fully resistant to the macroeconomic deterioration."
Lenvalskaya's downgrade came four months after she recommended buying the stock amid signs of improving economic environment in Russia.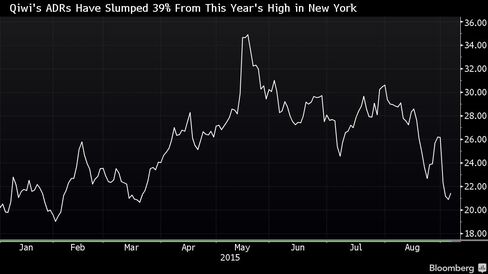 Qiwi, which allows customers to make payments through prepaid accounts online and at kiosks and terminals, has been seeing slowing revenue growth as Russians, whose wages have shrunk each month since November, cut back on spending and the number of active accounts dropped. The company, which had already halted dividend distributions as of the last three months of 2014, said last week it won't make any payouts for a few quarters and posted the weakest revenue growth since it went public in 2013.
Otkritie Purchase
Gross domestic product shrank in each of the past two quarters as oil, Russia's biggest export, sold for about half its five-year average price and sanctions linked to the Ukraine conflict restricted companies from raising capital in U.S. and European markets. Wages adjusted for inflation fell 9.2 percent in July from a year earlier while retail sales decreased at the same rate as the ruble slumped 10 percent.
Qiwi, which has about 177,000 kiosks and terminals, in June acquired Otkritie Financial Group's money-transfer and payment-processing systems in a move to expand its network. Second-quarter revenue grew 20 percent, compared with a 35 percent increase during the same period a year earlier. As much as 7 percent of the growth in the three months ended in June this year is attributable to the purchased businesses, Lenvalskaya said in a research note.
Growth Prospects
On a scale from 1 to 5, Qiwi's U.S.-listed stock has a consensus analyst recommendation of 3.9, below the 4.1 average of seven global peers, according to data compiled by Bloomberg. The total number of buy recommendations has dropped to seven from a record 13 in November. The average 12-month price target is $30.06, implying a 40 percent return on Friday's close.
Phone calls and an e-mail to Yacov Barinskiy, the head of Qiwi's investor relations, were not returned.
Russian online commerce as a percentage of total retail stands at 2.2 percent, with just 15 percent of e-commerce purchases paid remotely, according to UBS's Lenvalskaya. This gives the Russian electronic payment market a chance to grow by 20 percent in ruble terms in the next five years, she said.
"Qiwi is a growth story, and this is the time to grow and expand, leaving dividends for later," said Sergey Vasin, an analyst at Gazprombank. "Investors looking long-term understand that."
Narrow Discount
The American depositary receipts slid 18 percent to $21.44 in the five days through Friday, the biggest weekly retreat since April 2014. It was the worst performance in the Bloomberg Russia-US Equity Index, which slid 2.2 percent last week.
Meghna Ladha, an analyst at Susquehanna International Group LLP, last week lowered the projection for Qiwi's 2015 net revenue to $171 million from $197 million. Goldman Sachs Group Inc.'s Dmitry Trembovolsky decreased his per-share earnings forecast for 2015 to 73.1 rubles, or $1.07, from 76.7 rubles.
The company's U.S.-listed stock trades at 15.9 times projected 12-month earnings, compared with an average multiple of 18.6 among its peers, data compiled by Bloomberg show.
"There was a sharp slowdown in revenue growth and a dividend halt, and for a company that doesn't have much of a discount to peers, this creates a lot of uncertainty and makes some investors question whether Qiwi is really a growth story," Olga Naydenova, a banking analyst at BCS Financial Group in Moscow, said by phone. "The question is, how will investors view the stock of a company whose revenues are so volatile?"
Before it's here, it's on the Bloomberg Terminal.
LEARN MORE