Mexican Student Killing Account Questioned, New Probe Ordered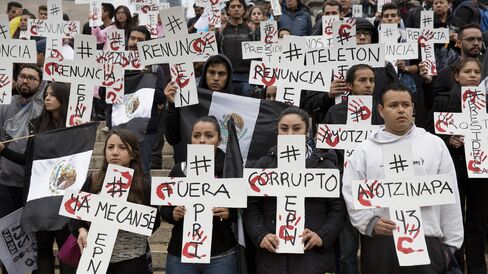 Rights group says bodies not burned at landfill as claimed

Attorney General calls for new investigation of missing
A report rejecting Mexico's official account of the disappearance and apparent death of 43 college students in 2014 has sparked the country's attorney general to order a new probe of the fire that the government says destroyed their bodies.
It was impossible that the bodies were burned in a landfill in the town of Cocula, Guerrero state, as the government asserted earlier this year, said the report released on Sunday by the Inter-American Commission on Human Rights.
A group of independent experts convened by the commission also concluded in the report that while local police were the direct aggressors, federal authorities, including armed forces, were present at several moments during the night the students were attacked.
The disappearances became a symbol of how local authorities' links to organized crime have helped trigger violence in Mexico's long-running drug war. The incident sparked nationwide protests against the president's handling of the case.
Mexico's government has said the students, all men, were on their way to a protest when taken hostage in Iguala by local police, who handed them over to members of the Guerreros Unidos drug cartel. According to that account, the drug gang burned the bodies in the landfill and dumped their remains in a river. Iguala's mayor, a PRD politician, was accused by the federal government of collaborating with the drug cartel.
The report claims there wasn't enough material or signs of burnt vegetation to account for a bonfire massive enough to incinerate the men's bodies.
'Bring Justice'
There were "deficiencies in the investigation, and work that remains to be done to bring justice for the families," the report found. The commission called on the government to keep looking for the students' remains.
At a hastily-convened news conference in Mexico City, Attorney General Arely Gomez called for forensic experts to examine evidence of a fire that the government said destroyed the missing students' bodies. She also said that the commission's findings backed up the government's conclusion that municipal police were involved in the crime and collaborated with a drug cartel.
The Washington-based rights group said authorities may have reacted violently because the students, from a rural teacher's college in Ayotzinapa, may have inadvertently interfered with a drug shipment in one of the buses they hijacked to attend the protest.
Mexico's drug war has left more than 70,000 dead since 2006 and thousands more missing, according to local tallies.
Before it's here, it's on the Bloomberg Terminal.
LEARN MORE