Juicemaker Huiyuan Bets Chinese to Pay More for Health
Huiyuan expects to match 31% sales growth in second half: CEO

China becoming more health conscious amid food safety scares
China's economic slowdown and recent market turmoil isn't damping China Huiyuan Juice Group Ltd.'s ambitions to sell more higher-priced pure fruit juices to health-conscious locals.
The leading pure juice-maker in China, which Coca-Cola Co. failed to buy in 2009, expects second-half sales to expand in line with the 31 percent growth in the first six months of 2015, boosted by pure juice sales as more Chinese adopt the concept of healthy living, said Chief Executive Officer Yu Hongli.
"Though the economy is slowing down, we still see big market potential of pure juice to drive sales growth," Yu said in an interview. The Beijing-based company will target high-income Chinese who put health ahead of money while continuing to sell cheaper juice in the product mix to mass market customers, she said.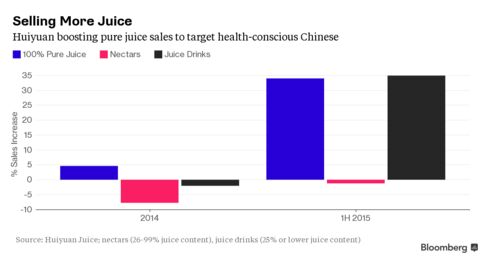 Concerns over food safety and health are prompting China's rising middle class to pay more for better quality, as consumers perceive higher-priced products to contain better ingredients, Euromonitor International Plc. said in an April report. China's market for pure juice is expected to grow 57 percent to $1.4 billion in 2019, after doubling to $862 million in the five years to 2014, according to the data provided by the research company.
Huiyuan shares dropped 1.9 percent to HK$2.54 at the close of trading in Hong Kong, while the city's benchmark Hang Seng Index fell 1.2 percent.
First Half Loss
Huiyuan posted a net loss of 97.7 million yuan ($15.4 million) in the first half of 2015, compared with a 20.5 million yuan profit a year earlier, which it attributed to the cost of adding 500 new stores. As Huiyuan completes its sales network with a total of 1,500 company-owned stores set across China, it will focus on boosting efficiencies and cost cuts in the second half, Yu said.
Revenue rose 31 percent to 2.6 billion yuan over the period led by growth in 100-percent or pure juice which jumped 34 percent from last year, while juice drinks, which Huiyuan classifies as having 25 percent or below juice content, increased 35 percent. Nectars, beverages with 26 to 99 percent juice content, fell 1.2 percent.
"Specific to Chinese market, the key of the business is communicating to the consumers the health benefit of juice and how it fits into the diet," said Thomas Jastrzab, an analyst with Bloomberg Intelligence. "If the company is competing on that base, it will be able to build up the customer base."
Sugary Drinks
Coca-Cola, which has come under pressure in the U.S. for the sugar and calorie content in its products and their links to obesity, has been
funding researchers for a "science-based" solution to the obesity crisis: To maintain a healthy weight, get more exercise and worry less about cutting calories, the New York Times reported last month.
While pure juices can have high sugar content naturally from fruits, they don't use artificial sweetener and generally contain higher fiber, which may appeal to the affluent senior consumers in China who commonly think that things from nature are better, Jastrzab said.
Huiyuan's juice drinks have been losing market share since 2010, with 1.7 percent of the market by volume in 2014 and ranking in seventh-place behind market leader Coca-Cola's Minute Maid which has 17.1 percent, Euromonitor data showed. Volumes in the category has also declined in 2014 overall as more Chinese consumers switch to healthier options, according to the market researcher.
Freshly Squeezed
Yu sees greater potential in the market for pure juices as it took up just 5.3 percent of the juice market in China last year.
To explore the higher-end juice market, Huiyuan started selling freshly squeezed pure juice in Beijing, Shanghai and Guangzhou since April, priced at 18 yuan per 300 milliliter bottle. Before this, Huiyuan had only sold reconstituted pure juice, produced by adding water to juice concentrate.
Freshly-squeezed juices, which can be about five times more expensive than reconstituted juices, provide higher profit margins although Huiyuan is limiting their sales to the first-tier cities for now due to their larger "price-insensitive" populations, Yu said.
Huiyuan App
The company is also starting to employ technology to boost its sales, she said. Using a dedicated Huiyuan app, customers can locate Huiyuan's nearest company-owned juice store and place orders for juice, with deliveries available within a radius of three kilometers.
To promote the health benefits of juice-guzzling to a larger number of locals, Huiyuan has been sending sales staff to local communities to plug its products, and negotiating with education authorities to sell more of its products in schools and universities, according to Yu.
Before it's here, it's on the Bloomberg Terminal.
LEARN MORE