Surge in Derivatives Sends Scandinavia Into Clearing Dispute
Scandinavian banks prepare to fight ESMA on derivative plans

ESMA is backed by Nordic central banks on clearing proposal
A surge in derivative trades in Scandinavian currencies is fueling a dispute between banks and regulators over planned clearing rules.
Since 2007, trading in interest-rate swaps and forward-rate agreements in Scandinavian currencies has jumped as much as five-fold.
The European Securities and Markets Authority says the development may be creating risks that warrant a regulatory response. ESMA, which is backed by Sweden's Riksbank, wants to force banks and brokers to use clearinghouses for the most liquid interest-rate derivatives traded over the counter.
The proposal has drawn protest from Scandinavia's financial industry, which says it will fight ESMA. Banks in the region argue their derivative market is too small to require such regulation.
"We're not convinced this is such a brilliant idea for a small market," said Lars Afrell, deputy director at the Swedish Securities Dealers Association. "To put it mildly, we are skeptical about some of the findings."
Enforcing such a rule may add costs to a system that has functioned well, according to the bankers' associations of Norway, Sweden and Denmark.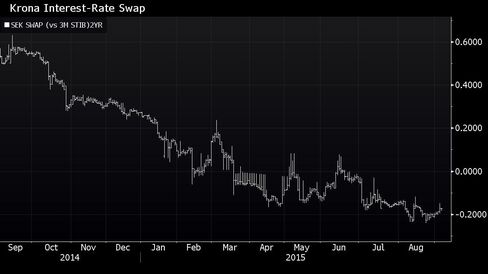 Even the biggest Scandinavian currency, the Swedish krona, accounted for just 1 percent of global interest-rate swaps in 2013, according to ESMA data. Forward-rate agreements in the krona made up 2.6 percent of global volume. Trades in Sweden's currency accounted for 1.8 percent of total turnover in 2013, ranking 11th in the world, Bank for International Settlements estimates.
Soeren Gade, deputy director at the Danish Bankers Association, says the industry is "not generally against mandatory clearing." But the association is worried it will "have a negative impact on small markets." He also questions the data on which ESMA bases its recommendations. The group's "consultation paper is possibly flawed," he said.
Regulators counter that even small currencies, and derivatives traded in them, are systemic for their local economies. Though a shock to the derivative markets denominated in the Swedish krona probably wouldn't jolt global markets, it would have a significant impact on Sweden, they say.
The market has become a systemically important one after expanding rapidly amid demand by companies for risk-management tools, Sweden's Financial Supervisory Authority said in a June stability report. Yet their use has introduced a new danger: that the market could freeze up due to "uncertainty and a lack of confidence" in counterparties, the agency said.
Steven Maijoor, ESMA's chairman, raised the question while at a conference in Copenhagen on Aug. 28. "The essence of what we're looking at is, what is the systemic relevance? What is the size of this market? Can this disrupt the financial markets?"
If a counter-party goes bust, the clearinghouse spreads the losses among its member firms, preventing wider contagion. Companies must post collateral with clearinghouses to use them. A fraction of the derivatives traded in Scandinavia already are cleared voluntarily.
A global agreement was struck in 2009 to overhaul the derivatives market, including requiring mandatory clearing. The accord followed the failure of American International Group Inc. and its notorious bailout by the U.S. government.
Europe is just beginning to specify which derivatives must be centrally cleared to avoid another financial crisis. Last month, the European Commission said banks need to use a third party when trading some interest-rate swaps and forward agreements denominated in dollars, euros, yen or pounds.
Next in line are interest-rate derivatives in six other European currencies. ESMA proposed in May that clearinghouses complete trades in nine swaps and forward-rate agreements. Five of the nine are in Scandinavian currencies. The others are in the Polish zloty, the Czech koruna and the Hungarian forint.
ESMA is looking at responses to its May paper before making its final recommendation, Maijoor said. The Nordic region's central banks and financial regulators have already thrown their support behind the proposal.
The decision will probably set a precedent for ESMA's handling of derivatives in other asset classes: equities, credit and foreign exchange.
"The size of the market is essential for mandatory clearing," Afrell said.
Before it's here, it's on the Bloomberg Terminal.
LEARN MORE