Varoufakis Says He'd Give Greeks 'Bitter Medicine,' Not 'Poison'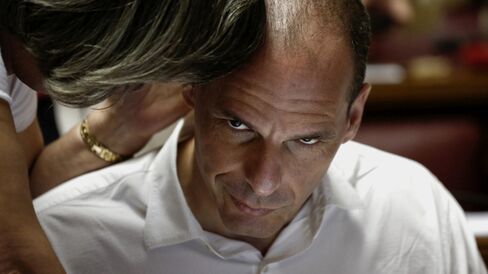 Former Greek Finance Minister Yanis Varoufakis has flagged his interest in a political comeback after the Greek election -- but only if the new rulers ask him to administer "bitter medicine" rather than "poison."
The parties fighting the election are backing the reform package because they've been blackmailed, Varoufakis told Bloomberg TV, in an interview at the Ambrosetti Forum in Cernobbio, Italy.
"If ever there is a government interested in bitter medicine and it is not simply committing to administering poison, then I am on board," he said. Asked if he might play an active role in the new government, Varoufakis replied he would insist that the reform program "be very harsh."
The former finance minister has since his resignation in July sought to justify his controversial sparring with European Union counterparts including Germany's Wolfgang Schaeuble through interviews and public speeches.
Varoufakis said political parties are hiding their opposition to the reform package.
"You only have to listen to the parties themselves. All of them disagree with the program, but they vote on it on the basis of blackmail. The argument is: this is a terrible program, it will not work but if we don't try to implement it, they will chuck us out of the euro zone. What? Is this what Europe has come to?"
"It's the height of irrationality," Varoufakis said.
Before it's here, it's on the Bloomberg Terminal.
LEARN MORE