MagicJack Is Coming Back From the Dead as Tilson Keeps Long Bet
Stock rose 26% in August after earnings beat estimates

Earnings beat came on back of cost cuts, still seeking growth
While global stocks were plummeting in August on the heels of China's market crash, MagicJack VocalTec Ltd. was having its biggest rally in more than a year.
Shares of the company, which sells a device that connects to a computer or router to enable voice calls over the Internet, surged 38 percent during eight days in August, their sharpest gain since February 2014. They rose 26 percent last month, compared with a 6.9 percent drop in the Nasdaq Composite Index.
MagicJack has had its share of ups and downs. Shortsellers forced its eccentric founder, Dan Borislow, to resign in 2012. The stock surged when hedge fund manager Whitney Tilson touted it as a turnaround story in early 2014, and the new management team raised earnings guidance, promising to lead the company into the digital age with a mobile phone application. These days, management is more humble. They've cut back on ad spending, and no longer highlight the numbers of app users on conference calls. Reining in costs, and about $10 million in stock buybacks, is largely responsible for the rally, Tilson said.
Investment Conviction
"This company is not out of the woods yet," Tilson, who oversees $80 million at Kase Capital Management in New York and has owned MagicJack shares for the past two years, said by phone. "They have cut costs, they have stabilized revenues. So now the question is, can they turn the corner and can they grow?"
Tilson is convinced they can. He's sticking to his thesis that having a MagicJack device is a lot cheaper than paying a traditional phone bill, and that those savings should attract customers, even in an era when fixed-line phone usage is declining.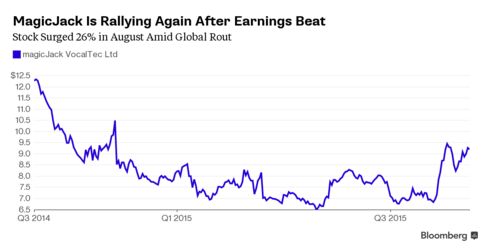 MagicJack, which has headquarters in Netanya, Israel and West Palm Beach, Florida, reported $6.8 million of profit on $25 million of revenue in the second quarter, more than double the profit estimate of two analysts, according to data compiled by Bloomberg. It had $82 million in cash, and no debt.
Still, revenue declined 14 percent from a year ago, and fell short of analysts' estimates. The number of device subscribers fell 11 percent to 2.62 million, and unique app users have dropped 29 percent from the second-quarter of 2014 to 2.4 million, executives said on an Aug. 10 conference call with investors.
In order to grow, the company is focused on selling more magicJack devices, converting users of the free app to paying users, and pursuing new markets overseas and among mid-size business owners.
Proven Success
"We're tightly managing our expenses to optimize cash flows generated from the core magicJack business," Chief Executive Officer Gerald T. Vento said on the Aug. 10 call. "Once we have proven the success in the business models we're pursuing, we can scale up quickly to accelerate the speed with which we grow that."
A deal with Telefonica SA to market the MagicJack device to 22 million potential customers in Mexico, originally announced in May 2014, is still being negotiated, Chief Financial Officer Jose Gordo said on the call.
He declined to comment further on the company's growth plans.
The cost cuts and cash flow have been enough to lure back some investors. Michael Corbett, chief investment officer at Chicago-based Perritt Capital, said he recently bought shares of MagicJack again after selling them at about $22 back in 2014. It's unclear how the company can make money on its mobile app, but he got in again because the stock is cheap.
Cash Cow
"They're taking the approach that the business they have is a cash cow, and let's just let the earnings and the revenue come in from what they have on the current subscribers and then start to figure out where they're going to go with their next business," he said by phone. "Because of that, the spend they were getting just falls off, and earnings and cash flow just explode."
MagicJack trades at 9.3 times 12-month future earnings, compared with an industry average of 18, according to data compiled by Bloomberg. The company forecasts revenue of about $100 million this year. That would be a decline of more than 10 percent from 2014.
The stock has gained 41 percent from a five-year low of $6.50 on April 30. It rose 6.1 percent last week to close at $9.19.
Tilson, who first bought shares at around $11, said he's not sure if he's made money on it yet, since he took some profits when it rallied to around $20. Even if the company fails to monetize the app, he still thinks the shares are attractive.
"You might not think it's a great business. You might think it's a declining business, but the price matters," he said. "It's still cheap."
Before it's here, it's on the Bloomberg Terminal.
LEARN MORE