Enel on Track to Meet 2015 Financial Targets, CEO Starace Says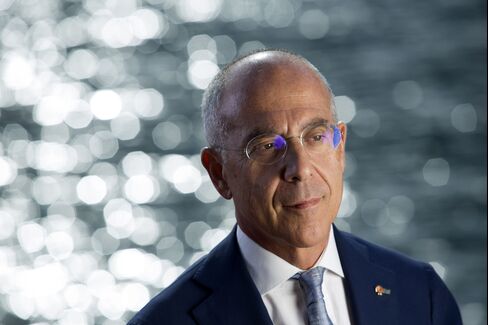 Enel SpA, Italy's largest utility, will meet its 2015 financial targets in light of performance since the start of the third quarter, Chief Executive Officer Francesco Starace said.
"Today we are at the beginning of September, we can say that, yes, we keep that guidance and will probably do that formally during the phone call that takes place the end of the third quarter," Starace said in an interview at the Ambrosetti Forum in Cernobbio, Italy.
Enel's profit rose 3.4 percent in the first half on its Latin American and renewables business. In March, the Rome-based company set a 2015 earnings before interest, tax, depreciation and amortization target of around 15 billion ($16.7 billion) euros and a net ordinary income target of around 3 billion euros. Enel also has a net debt target of 39.2 billion euros.
Starace is raising 5 billion euros from disposals in order to cut debt. This includes the planned sale of Enel's majority stake in Slovakian power producer Slovenske Elektrarne. Enel is currently in exclusive talks with Prague-based Energeticky & Prumyslovy Holding AS for the sale.
Starace confirmed plans to dispose of Enel's 66 percent stake in Slovenske in two phases. The first, which will be completed by year end, involves selling about half of the current stake, he said. The second part of the stake will be sold after about two years, following the completion of two new reactors at the Mochovce nuclear plant.
"The Slovenske sale fits our strategy to reduce exposure in merchant generation and grow more in grids," he said.
Before it's here, it's on the Bloomberg Terminal.
LEARN MORE