Brazil's Levy Says His Future Not Issue Amid Austerity Moves
Questions linger about Rousseff's commitment to tough measures

Levy expects signs of growth 2016, doesn't rule out tax hikes
Brazil's Joaquim Levy said resigning his position as finance minister was never discussed, amid doubts about whether President Dilma Rousseff will stick to austerity measures Levy advocates to avoid a sovereign credit rating downgrade.
"At no time was my staying or leaving discussed," Levy said on Saturday in Turkey in response to questions about how long he will remain in his post. "There is a commitment by the government."
It was the first time Levy had spoken about his future in Rousseff's government, after a week of speculation that he may step down due to lack of support for his proposed austerity plan. Brazil's currency extended declines on Friday, even after Rousseff met with Levy and her aides said he would stay on as minister.
The focus will be on cutting spending, but tax increases haven't been ruled out to achieve a targeted budget surplus excluding interest payments of 0.7 percent of gross domestic product next year, the University of Chicago-trained economist said.
The government of South America's largest economy is committed to avoiding a downgrade, said Levy. "Will we have the conditions, is there interest in society for us to reach the target? That is the question," Levy said on the sidelines of the Group of 20 summit of finance ministers and central bankers in Ankara.
The administration's projection on Aug. 31 that it would post a primary budget deficit in 2016 sparked a sell-off of Brazilian assets. Traders saw the proposal as a sign Rousseff was backing away from fiscal discipline to shore up her political support, instead of sticking to the spending cuts proposed by Levy.
The government anticipates a primary deficit next year, excluding interest payments, of 30.5 billion reais ($7.9 billion), or about 0.5 percent of gross domestic product, Budget Minister Nelson Barbosa told reporters in Brasilia Aug. 31. It was the first time a Brazilian government had ever proposed a primary deficit in a budget.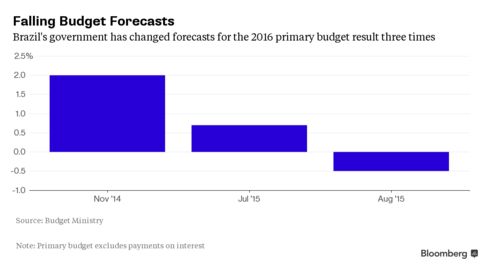 The economy will show signs of recovery by the end of the year, driven by exports, Levy said. Economists now expect Brazil's economy to contract by 2.3 percent in 2015, against estimates from January of 0.5 percent growth, according to the latest central bank survey of analysts. The budget deficit has widened to 8.8 percent of gross domestic product from 3.6 percent a year earlier.
The real depreciated 6.8 percent in the past week to 3.8434 per U.S. dollar, the worst performance among emerging markets. Swap rates maturing on January 2017 rose 1.09 percentage point this week to 15.04 percent as traders priced in looser fiscal policy.
Before it's here, it's on the Bloomberg Terminal.
LEARN MORE