Williams Wooed by Two Suitors With Two Very Different Ambitions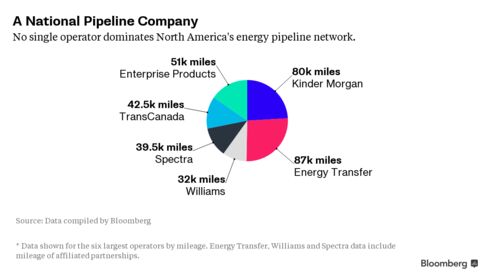 The lure of Williams Cos. as a takeover target has drawn two very interested pipeline suitors, for two very different reasons.
Energy Transfer Equity LP sees Williams' natural-gas conduits in the U.S. East, especially one to New York City, expanding its operations into demand-hungry areas. For Spectra Energy Corp., also said to be in talks to buy Williams, the attraction may be the possibility of a tax write-off and the chance to bring more Canadian gas into the western U.S.
The two companies' starkly different interests in Williams illustrate how complex the financial structure of U.S. pipelines have become. Energy Transfer retains its complicated corporate setup, with controlling interests in multiple separately traded partnerships, while Williams has sought to simplify along with other pipeline owners. The changes come as investors demand ever-increasing cash payouts. Reducing tax rates has become as powerful a driver as strategy.
"Many of the pipeline transactions we've seen over the past year were, in part, motivated, justified, supported by the fact that they greatly mitigate cash taxes," said Christopher Sighinolfi, a New York-based analyst for Jefferies Group LLC, who covers Williams and two Energy Transfer affiliates. "It may be possible for Spectra to configure the transaction in such a way."
Phil West, a spokesman for Spectra, declined to comment on any interest in Williams. Energy Transfer and Williams also declined to comment.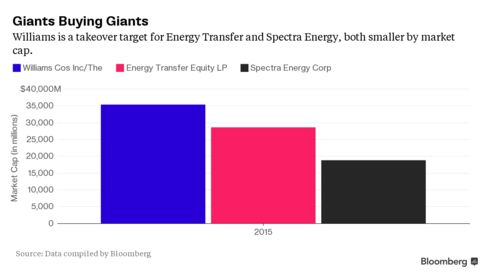 Tulsa-based Williams fell 2 percent to $46.42 in New York, up 3.3 percent on the year. Spectra dropped 1.3 percent to $27.87, down 23 percent year-to-date. Energy Transfer Equity, based in Dallas, slid 1.4 percent to $26.87, down 6.3 percent since the end of 2014.
Marcellus Shale
A potential deal comes as a record volume of natural gas flows out of the Marcellus shale formation centered in Pennsylvania, now the largest and most prolific U.S. gas field. The surge in output from the region has upended the nation's gas markets, as well as the majority of the U.S. pipeline network that was previously designed to deliver gas from the Gulf Coast.
"It's going to be good to control a lot of long-distance pipelines because the pricing is going to move around the country," said Skip Aylesworth, who helps manage about $6 billion for Novato, California-based Hennessy Funds, including shares in all three companies. "A nationwide pipeline company. No one really has that. The first guy to the table is going to control that process for a long time."
Lowering Taxes
Energy Transfer was the one that pushed Williams onto the block in June, offering $48 billion. Williams rejected the offer, hired bankers and is now in talks with both Energy Transfer and Spectra, according to people familiar with the process, asking not to be identified because the information isn't public.
Lowering taxes would be crucial for Spectra in any deal, Sighinolfi said. The company is facing a soaring tax rate next year because it's no longer able to offset a large decline in the value of its aging assets.
Spectra has forecast a cash tax rate of 0.5 percent this year, jumping to 18.9 percent in 2016 and 21 percent in 2017. The company's chief executive officer, Greg Ebel, projected Aug. 5 that the Houston-based pipeline operator would be saddled with $300 million in annual cash tax payments in 2016 and 2017.
Tax breaks from depreciation were "a major value enhancement" in Targa Resources Corp.'s purchase of Atlas Energy LP, Jonathan Z. Cohen, Atlas Energy's chairman, told investors after the deal was announced Oct. 13. Targa Resources said it expects a cash tax rate as low as 5 percent this year. That compares with a pre-purchase estimate of 33 percent for last year.
Kinder Morgan Inc., which bought back its own pipeline partnerships last year, said it'd save $20 billion in cash taxes over 14 years.
Canadian Gas
Spectra can also gain from an expanded footprint allowing it to move more gas between Western Canada and the western U.S. It owns lines that help supply Vancouver from the gas-rich, isolated fields in northeastern British Columbia. Williams, meanwhile, has pipes serving Washington and Oregon.
For Energy Transfer, which doesn't face the threat of a huge tax bill next year, the attraction of Williams is in one thing it doesn't already have: a major gas pipeline feeding New York. Its 10,200-mile (16,400-kilometer) Transco pipeline extends from South Texas to New York City.
Energy Transfer executives "want Northeast exposure," Brandon Blossman, a Houston-based analyst for Tudor Pickering Holt & Co., said in an Aug 28 telephone interview. "They have very little. It's an important strategic initiative for them." Williams has processing plants and smaller lines that would enhance Energy Transfer's footprint, he said.
Spectra already owns Texas Eastern, one of three major pipelines connecting Texas to the Northeast. The company may need to sell one of its lines to New York if it buys Williams to meet antitrust concerns, Sighinolfi said.
Either suitor can offer a 30 percent premium to Williams and expect more cash to be paid out to investors, John Edwards, an analyst for Credit Suisse Group AG, wrote in an Aug. 16 note to clients. "It's tough to call out a clear winner," he said.
(An earlier version of this story corrected the location of the headquarters of Energy Transfer Equity.)
Before it's here, it's on the Bloomberg Terminal.
LEARN MORE