U.S. Jobs Surprise Echoes in Turkey as Lira Plunges to Record
Prospects for higher U.S. rates add to Turkey's political woes

Currency extends this year's loss to 22 percent versus dollar
Turkey's lira capped its longest run of weekly losses in 11 years by falling to a record against the dollar as rising prospects for a U.S. interest-rate increase compounded the woes of a currency hobbled by domestic political tensions.
The lira weakened as much as 1.2 percent to 3.0067 before trading at 3.0051 as of 6:25 p.m. in Istanbul, sliding for a seventh week. It extended its retreat after a Labor Department report showed American unemployment slid to 5.1 percent, the lowest since 2008 and a level the Federal Reserve considers to be full employment. The data prompted traders to increase their odds that policy makers may consider raising the benchmark rate at their meeting Sept. 16-17.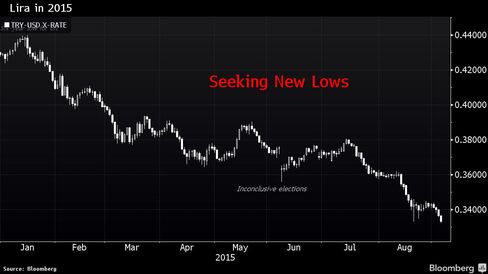 The lira has tumbled 22 percent this year as a ceasefire with the autonomy-seeking Kurdish minority broke down and efforts failed to form a coalition government after inconclusive elections, pushing the country toward repeat polls in November. The economy is doing no better: inflation accelerated to 7.14 percent in August, remaining above the central bank's target of 5 percent for the 53rd consecutive month and prompting at least five banks to raise their consumer-price forecasts.
"Turkey is scoring very badly on nearly every indicator," said Cristian Maggio, the head of emerging-market research at TD Securities in London. "The market is punishing Turkey now. The lira is moving exactly where I expected it to move, just faster than predicted," said Maggio, who predicts the currency to weaken to 3.40 per dollar by the end of 2016.
The lira is the world's worst-performing currency outside South America this year and has tumbled 7.5 percent since Aug.11 when China unexpectedly devalued the yuan. In the global rout that followed, Turkish assets have been among the most affected. The country's benchmark stock index retreated 5.9 percent and government bonds fell, sending two-year yields 114 basis points higher. The extent of the declines has spurred some analysts to predict a bounce-back.
"I am rather bearish the lira," Koon Chow, a strategist at Union Bancaire Privee in London, said by e-mail. "But given how pessimistic people already are, I expect that at some stage in the next few weeks, the lira may be able to stabilize as people cut their shorts just in case the election results deliver a one party government."
Before it's here, it's on the Bloomberg Terminal.
LEARN MORE