Top Mortgage Analyst Quits JPMorgan to Follow The Beat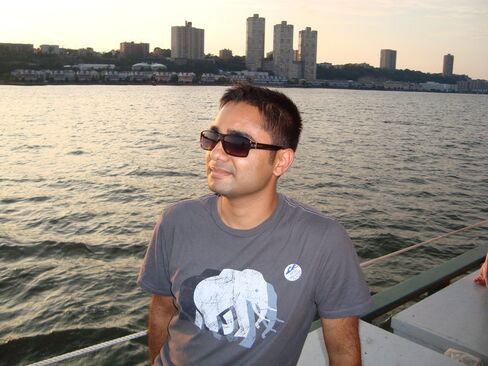 Abhishek Mistry went out on top.
He and his colleagues were recognized for the third year in a row by an Institutional Investor survey as one of Wall Street's premier teams of mortgage-bond analysts. About the same time, he quit his job at JPMorgan Chase & Co. to focus on his startup, Mixcity Inc., which creates software for DJs.
"A lot of people were surprised," he said.
Mistry, 33, became the latest in a slow drip of bankers leaving Wall Street to follow their bliss. Mixcity already has been in business seven years and has sold DJ software in 80 countries -- including to DJ Pauly D from the TV show "Jersey Shore." Other bankers have jettisoned jobs in finance for French cooking, concierge services for New York residents and online forums.
Mixcity started as a side venture for Mistry and two DJs, one of whom was a childhood friend from Saugerties, New York. Its KueIt software had a "Jersey Shore" cameo on the laptop of Pauly D -- real name Paul DelVecchio -- who purchased it before the now-defunct MTV show began. Others offering testimonials include Fatman Scoop, Clinton Sparks and DJ Pro Style.
Mistry said Mixcity's next product, JammText, will expand the use of screens at places like bars, concert halls and Sweet 16 parties to throw up music videos or photo slideshows. Mixcity wants to make it easier to display those and to mix them with tweets, texts and Instagram posts, Mistry said.
The firm will be seeking venture capital to expand its marketing and perhaps help with the development of the product, Mistry said.
Making Crepes
In 2013, Julia Numair, a credit-derivatives trader, left Citigroup Inc. to join an online "digital doorman" company called Clean Cube, which provides services such as dry-cleaning drop-off to busy New Yorkers. Dmitry Selemir stopped managing structured-credit investments at hedge fund BlueMountain Capital Management to concentrate on an opinion-sharing website he co-founded called Scriggler.com.
And last year, Florent Cohen left his job as a risk manager in New York at BNP Paribas SA to start a crepes business.
"I wasn't as excited as I used to be working in finance," Cohen said at the time. He'd worked at the Paris-based bank eight years.
'Less Motivated'
Mistry, too, said Wall Street wasn't as much fun as it used to be. Headaches created by post-crisis regulations have led to creeping bureaucracy and cost-cutting, meaning there are "a lot of additional things that you need to do on top of what you would consider your job," he said. "People, in general, are less motivated." Meanwhile, the long, rigid hours haven't let up, Mistry said.
Jessica Francisco, a spokeswoman for JPMorgan, declined to comment.
Mistry's decision to leave the New York-based bank wasn't all about changes on Wall Street. He said his grandfather's career as a builder in India helped persuade him to try entrepreneurship.
Mistry and John Sim, a senior analyst with whom he shared the Institutional Investor awards, published research on so-called private-label U.S. mortgage bonds. He calls JPMorgan "a great place to work in the grand scheme of things." But with the birth of his first child last month, he said the window was closing for him to follow his dream.
"Now's the time that I can start something," he said. "A few years from now it would be a lot harder to quit the job that I had."
Before it's here, it's on the Bloomberg Terminal.
LEARN MORE