Telecom Italia Said to Consider $6 Billion Stock Conversion
Company may receive EU500 million from revamp, people say

Topic should be addressed by board in second half: CEO
Telecom Italia SpA is considering a proposal to convert 5.5 billion euros ($6.1 billion) of non-voting shares into common stock as early as this year in a move that could generate cash for the indebted phone company, according to two people familiar with the matter.
An exchange of the savings stock -- a type of securities that dates back to the 1970s and was popular among individual investors -- was discussed by Telecom Italia's control and risk committee in early August, the people said, asking not to be identified because the deliberations are private. No final decision has been made, they said.
Under a scenario of voluntary one-for-one exchange, Telecom Italia may receive about 500 million euros in proceeds because holders of the savings stock would have to pay a conversion fee that represents about half of the difference in values between the two share classes, the people said.
Savings stock account for almost one-third of Telecom Italia's share capital, and its conversion into voting shares -- the biggest overhaul of the phone company's equity structure in 16 years -- would dilute the stake of Vivendi SA, the phone carrier's largest shareholder with a 14.9 percent stake.
The savings shares jumped as much as 7.3 percent and traded 3.1 percent higher at 94.9 euro cents as of 4:06 p.m. in Milan. The common stock fell 1.1 percent to 1.10 euros. The company has a market capitalization of 20.6 billion euros, with adjusted net debt of almost 27 billion euros at the end of June.
Vivendi shares lost as much as 2.2 percent in Paris.
A spokesman for Milan-based Telecom Italia said the company has no formal plans for a conversion of its savings shares.
"If you look across Europe, who has a big portion of saving shares? It's now very limited number of companies," Chief Executive Officer Marco Patuano told analysts during an Aug. 7 conference call. "I think that of course this topic should be addressed by the board in second half, but since now, we haven't positioned yet."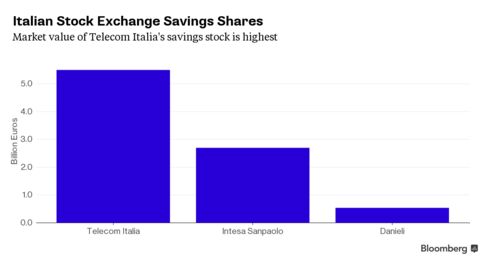 In Italy, savings shares don't carry voting rights but companies are required to pay a dividend to the holders every year. Telecom Italia hasn't paid a common dividend for two years as it channeled capital to improving its fiber-optic networks.
"The carrier would have a more diluted shareholding structure to being closer to a real public company," said Andrea Giuricin, a professor at Milan's Bicocca University who specializes in media and telecommunications. Cash raised from the conversion could be used to fund an expansion of Telecom Italia's high-speed broadband network, he said.
UniCredit SpA and Intesa Sanpaolo SpA are other Italian companies that have savings shares on their registers. RCS MediaGroup SpA last year got rid of the share class.
Before it's here, it's on the Bloomberg Terminal.
LEARN MORE