Ruble Swinging Most in Four Months Triggers Putin Budget Switch
One-month currency volatility climbs to highest since May

Putin announces return to one-year budget amid turbulence
The ruble fell with oil prices, retreating for a fourth day as market turmoil that's driven the strongest swings in the Russian currency since May forced Vladimir Putin's government to cut its budget planning horizon from three years to one.
The ruble weakened 0.6 percent against the dollar to 67.6170 by 5 p.m. in Moscow, heading for a 3.3 percent retreat for the week. The currency's one-month historical volatility rose to 38.3, the highest since May and almost four times the level in October before the central bank stopped managing the exchange rate.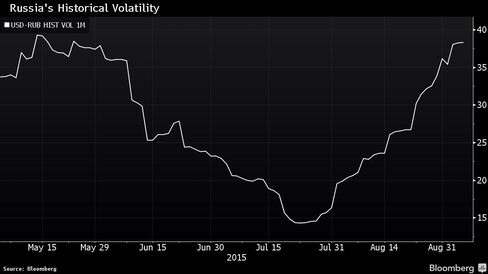 Concern over a slowdown in China, Russia's biggest trading partner, has pummeled commodity prices and rattled emerging markets that are bracing for an outflow of funds as the Federal Reserve weighs its first rate increase since 2006. Putin said on Friday he's asking parliament to support a switch back to a one-year budget horizon because it's "impossible" to predict the direction of global markets.
"Volatility in all emerging markets has increased significantly and the ruble is no exception," Dmitry Polevoy, the chief Russia economist at ING Bank Eurasia JSC in Moscow, said by e-mail. "On top of the general uncertainty around the Fed decision and the future of the Chinese economy, volatility is being intensified by the uncertainly over the oil price, which worsens the outlook for inflation and gross domestic product growth."
Pure Utopia
The currency of the world's biggest energy exporter has crumpled with oil prices in the past 12 months, losing 45 percent of its value as Brent crude plummeted more than 50 percent. On options markets, a measure of the ruble's outlook against the dollar over the next month is -4.02 percent, the most bearish in emerging markets after the Argentine peso.
Brent crude fell 1.3 percent to $50.06 a barrel on Friday. Five-year government bonds declined, pushing the yield two basis points higher to 11.86 percent and paring the drop in the week to three basis points. The Micex stock index dropped 1 percent, set for a 1.5 percent slide in the week.
Putin's budget proposal is "very sane," Vladimir Miklashevsky, a strategist at Danske Bank A/S in Helsinki, said in e-mailed comments. "In the current environment, weighed heavily by geopolitics and high volatility in commodity markets, a three-year budget is a pure utopia for the Russian state."
Before it's here, it's on the Bloomberg Terminal.
LEARN MORE