Rival Thai Politicians Unite Against Proposed 20th Constitution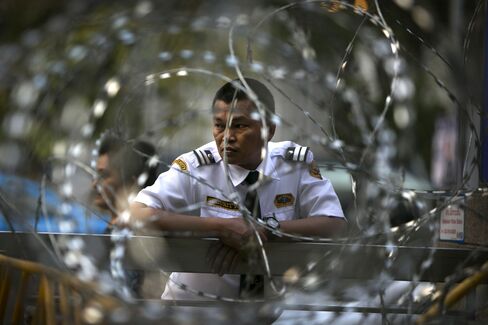 Parties say proposed constitution will deepen political divide

National Reform Council to vote on draft charter on Sunday
Thailand's two biggest political parties -- at odds during more than a decade of unrest-- agree on something: The military junta's draft constitution must be defeated.
Pheu Thai, ousted by the army in a May 2014 coup, has warned the draft takes power away from the people, while the Democrat party says it risks deepening the nation's problems and could spur more violence. Both have called on the junta's National Reform Council to reject the charter, which would be Thailand's 20th since 1932, in a vote Sunday.
"This constitution does not respect the people's sovereignty," Pheu Thai said in a statement Sept. 2. "Many agree that the constitution was designed to maintain the junta's power by creating a military regime to control over an elected government."
The criticism -- particularly of a section that would let a committee that includes the heads of the armed forces take over administration of the country in a crisis -- is adding to the junta's woes. Already under pressure to speed up a return to elections, it has struggled to shore up an economy constrained by rising household debt and shrinking exports.
The government's claim that it has returned security to a nation weary from years of political violence was tested by an Aug. 17 bomb that tore through central Bangkok, killing 20 people.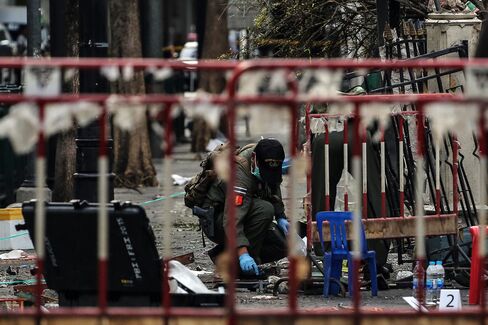 Economic Blow
"It is tragic that the junta is not in a very strong position," said Puangthong Pawakapan, an associate professor of international relations at Chulalongkorn University in Bangkok. "But the opposition is too weak, fragmented and polarized to do anything about it."
Prayuth Chan-Ocha, the coup leader turned prime minister, switched his cabinet team last month in response to criticism the junta was neglecting the economy, which is forecast to have among the slowest expansions in Southeast Asia this year. Data released Thursday showed consumer confidence slumped to a 15-month low last month amid concern the bombing will deter tourists.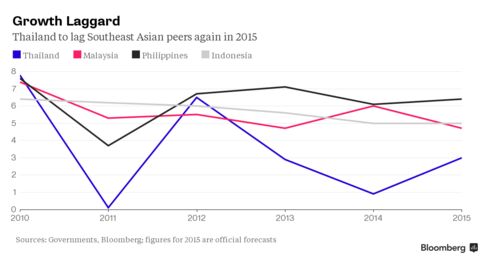 The junta has said elections could be held as early as late 2016 if the reform council approves the draft and voters do the same in a January referendum. If rejected, the drafting process would restart and there would be no time frame for polls.
The draft is a revision of a version released in April. Like the 2014 coup and another in 2006, it's seen as an attempt to diminish the electoral dominance of the Shinawatra family, whose allied parties have won every national election in the past 14 years.
State Within a State
The charter could stop any single party from dominating parliament and introduce checks from unelected bodies on future governments. It'd allow for an unelected prime minister to be chosen from outside parliament.
Most contentious, it would set up a "committee on reform and reconciliation" totaling no more than 22 people made up of the heads of the armed forces, police, the prime minister, heads of the senate and house and appointed experts.
The committee for the first five years would be allowed to take over executive and legislative powers if it deemed there was a political crisis. Critics say it'd create a state within a state and legalize coups in a country that has seen 12 military takeovers since the end of direct rule by kings in 1932.
Thailand is in "dire need" of political reconciliation, the editorial board of the Bangkok Post wrote on Aug. 14. "But this high-minded goal cannot be attained when important decisions, which can make or break democracy, remain concentrated within a small group of civilian and military elites -- which is reflected yet again in the plan to set up this so-called crisis committee."
The leader of the Democrat party, Abhisit Vejjajiva, whose supporters backed street protests that helped topple the last government, has warned the committee could create problems and called for the draft to be rejected.
Prayuth has warned people to stop calling for the draft to be rejected and for changes to his so-called roadmap for a return to democracy.
'They Can Speak'
"If it's 100 percent democracy, anybody can say anything they want," Prayuth, who wields absolute power under an interim constitution written after the coup, said Sept. 3. "But we all know Thailand is not 100 percent, so don't talk to me about this."
The chairman of the drafting committee. Borwornsak Uwanno, has urged people to not look at any one clause too closely.
"When we consider anything, we should look at the overall picture," he said last month. "It's like when we look at Miss Universe, we look at the overall body to see the beauty. If we cut out and only look at her intestine, heart or pus, how can it be beautiful?"
Before it's here, it's on the Bloomberg Terminal.
LEARN MORE