Pimco Sees Bernanke-Style Saver Glut Capping 10-Year Yield at 3%
Ten-year yields will struggle to push past 3%, Pimco says

Bernanke's theory says savers funnel money into Treasuries
Pacific Investment Management Co., home to the world's biggest actively run bond fund, says the savings glut that dictated the direction of the bond market a decade ago is keeping borrowing costs down again in 2015.
Individuals preparing for retirement and emerging nations that are accumulating funds will drive more money into savings, Joachim Fels, an economic adviser at Pimco and the former chief economist at Morgan Stanley, wrote in a report this week. Under a theory advanced by former Federal Reserve Chairman Ben S. Bernanke in 2005, people then funnel the money into Treasuries, helping keep yields down.
"The global savings glut is here to stay and actually more likely to increase than ebb," Fels, who is based in Pimco's headquarters in Newport Beach, California, wrote in an e-mail Friday in Asia. The trend is "important to understand why global rates are as low as they are."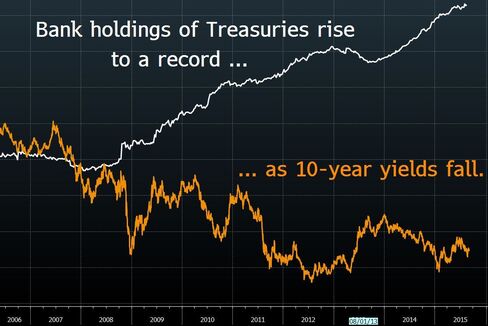 When Bernanke outlined his theory, he was a governor on the Fed board. At the time, the flows were being driven mainly by Asian central banks, he said. Chairman Alan Greenspan took note and latched onto it to explain what he called the bond market "conundrum," marked by a decline in Treasury yields while the Fed was raising interest rates.
Something similar is happening now. Benchmark 10-year yields have fallen to 2.14 percent from this year's high of 2.50 percent in June. Current Fed Chair Janet Yellen has said it would be appropriate to increase borrowing costs in 2015 if the economy evolves as central bankers expect.
Treasuries gained for a second day on Friday, with the yield falling four basis points, or 0.04 percentage point, to 2.12 percent, according to Bloomberg Bond Trader data. The 2 percent security due in August 2025 rose 11/32, or $3.44 per $1,000 face amount, to 98 29/32 as of 11:22 a.m. in London.
Rise 'Somewhat'
U.S. yields should rise "somewhat" as the Fed begins to increase borrowing costs, Fels wrote in his e-mail. Ten-year yields will struggle to push past 3 percent over the next six to 12 months, he wrote.
Holdings of Treasuries and agency securities at commercial banks climbed to a record $2.16 trillion in August, Fed data show. Private pension funds owned a record $344.9 billion of U.S. debt as of the most recent figures in March, based on central bank data. Foreign ownership of U.S. government securities peaked in January, according to the Treasury Department.
Longer Retirement
People want to build wealth to prepare for a longer retirement, Fels wrote in his report. In emerging nations, slowing growth highlighted by China and recessions in countries such as Russia and Brazil will depress imports. This will help boost current-account surpluses, according to Fels.
Pimco Total Return Fund has returned about 1.1 percent in the past year, beating 66 percent of its peers, according to data compiled by Bloomberg. With $101 billion in assets, it is second in size only to the $118.4 billion Vanguard Total Bond Market Index Fund, which tracks the performance of a bond benchmark.
John Gorman, the head of dollar interest-rate trading for Asia and the
Pacific at Nomura Holdings Inc. in Tokyo, said Pimco is onto something.
"There's a lot to this," he said. "People want to save more for the
future. They want more retirement savings. Fifteen years ago, the average rate of return on investments was, say, 7 or 8 percent. Now the rate of return is lower. People need to save more."
Treasuries may not be the only beneficiaries, Gorman said. Investors will be looking for higher-yielding assets such as stocks and real estate, he said.
Fels agrees investors will want to diversify. "I'd say not only into Treasuries, but other assets as well," he wrote.
Before it's here, it's on the Bloomberg Terminal.
LEARN MORE