1) The Great August Equity Sell-off Shows No Signs of Abating
After China woes triggered the worst global monthly stock slump in more than three years, a mixed U.S. jobs report further muddied the outlook for interest rates ahead of the Fed's next meeting (Sept. 16-17). Things don't bode well for September — historically the worst month of the year for the Standard & Poor's 500 Index. The equity benchmark falls about 1.1 percent on average this month, based on data going all the way back to 1927. This quarter is already on track to be the S&P 500's worst in four years.
Can we just skip to October?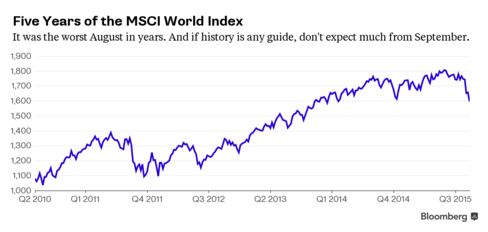 2) Few Think China Can Rescue The Market
As a military parade in China neared to celebrate victory in World War II, state-backed funds intervened in the stock market to support prices and prevent a rout from clouding the event. Thousands of factories were closed and cars banned from the roads to eliminate Beijing's now-notorious pollution. But as Bloomberg's Kana Nishizawa reported, options traders are betting big the government can't control the market forever.
The cost of bearish contracts on the China 50 exchange-traded fund (ETF) has surged to the highest level versus bullish ones since they started trading in Shanghai six months ago. This so-called skew also climbed to a record for a similar ETF in the U.S., even as government buying drove China's benchmark index to a 10 percent rally in the final two days of last week.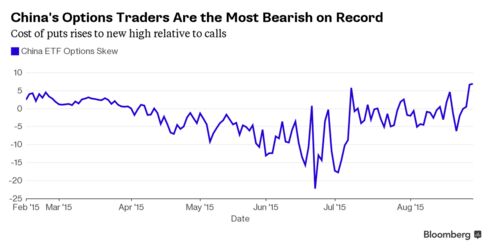 3) Not All Endangered Whales Are Endangered Everywhere
Whaling might be banned under a mortatorium rooted in international law, but not all key players agree with why that is. Iceland, that volcanic outpost in the far north Atlantic, continues to hunt whales under objection to the moratorium. (Norway, which also whales, does so under reservation. It's a different thing.)
Iceland justifies its hunting – even of species such as the fin whale, listed as endangered on the IUCN Red List – because it has confidence that the whale population in its sector of the ocean is healthy and sustainable. It's a view that has put the country at the heart of the dispute between conservationist and traditionalists like Kristjan Loftsson, the country's leading whaler, and Stefan Ulfarsson, a well-known restaurateur.
Bloomberg's Tom Mackenzie and Ed Kiernan found out more.
By Trista Kelley, Kana Nishizawa and Adam Blenford. Edited by Tim Coulter
Before it's here, it's on the Bloomberg Terminal.
LEARN MORE