BofA Investors Urged by ISS to Reject Combined CEO, Chairman Job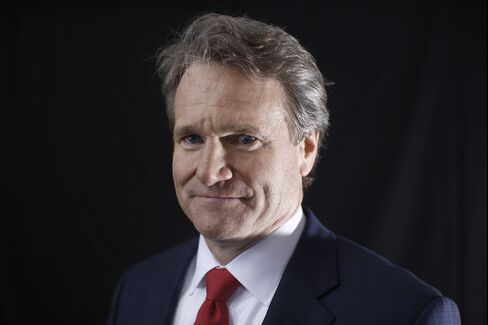 Bank of America Corp. shareholders should oppose a proposal allowing Chief Executive Officer Brian Moynihan to remain chairman, proxy adviser Institutional Shareholder Services said in a report to investors.
"The board's suggestion that the independent chairman requirement is no longer needed given that the company's circumstances have changed since 2009 is unconvincing," ISS said in the report obtained Friday by Bloomberg. "While the near-term viability of BAC is no longer in question, its performance and governance continue to raise concerns," the proxy adviser wrote, referring to the bank's stock ticker.
Moynihan, 55, became chairman in October after the second-largest U.S. lender amended shareholder-backed bylaws created in 2009 that require an independent chairman. The bank's investors are scheduled to vote Sept. 22 on a proposal that would ratify that change. Glass Lewis & Co., another proxy adviser, said earlier this week that it also opposes the bylaw change.
"The board is asking for the same flexibility that 97 percent of the S&P 500 already have in determining their leadership structure," Lawrence Grayson, a spokesman for Charlotte, North Carolina-based Bank of America, said in a statement. "The board recognizes and respects that some have a fixed view on board leadership structure and others hold differing views, which is why the board committed to putting it to a vote."
Before it's here, it's on the Bloomberg Terminal.
LEARN MORE