Zambia Rules Out FX Controls as Intervention Becomes Hard
Foreign-currency restrictions will take country `backwards'

Kwacha has dropped 35 percent against dollar this year
Zambia has ruled out foreign-exchange controls to halt the kwacha's 35 percent plunge against the dollar this year, while stating that its intervention strategy to defend the currency has limitations.
Finance Minister Alexander Chikwanda and central bank Governor Denny Kalyalya said separately on Thursday that currency restrictions will be a step backward for an economy reeling from a plunge in copper prices. Zambia earns 70 percent of export income from the metal.
"They don't help, they actually accentuate the difficulties," Chikwanda said on the sidelines of a conference in the capital, Lusaka. "Even the little forex we have would be taken out if we have control of capital movement. You create panic. It's not a conducive environment. It's a recipe for getting the country backward."
Copper prices near six-year lows have pushed Zambia's economy into crisis at the same time that a power shortage is forcing mining companies to curb electricity usage. The kwacha dropped to a record low of 9.9023 against the dollar on Thursday.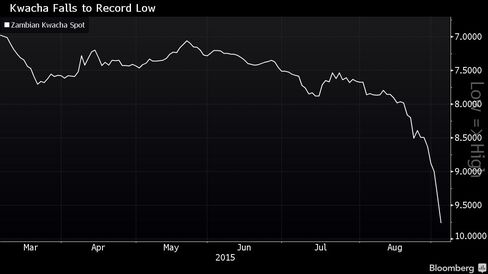 Foreign-exchange "controls don't work because people eventually find a way around," Kalyalya said in an interview broadcast on state-owned ZNBC radio. "It's very clear what the government policy is, we are going to maintain a flexible exchange rate."
Zambia's policy of running down reserves to defend the kwacha is also limited, Chikwanda said in a speech.
Deficit Target
"Our reserves are reducing and this is why you see, even the capacity of the central bank to sort of intervene, measured intervention, is becoming difficult," Chikwanda said. "Our reserves are not something to write home about. We are now hovering around 2.5 months import cover."
Foreign-currency reserves fell 30 percent to $2.6 billion in the year through April 30, according to data from the central bank.
Falling copper revenue has strained the government's budget, forcing Zambia to raise its deficit target for this year to 6.7 percent of gross domestic product from 4.6 percent.
"Our government will have to do some fiscal consolidation," Chikwanda said. "We have to cut our suit according to the available cloth." That requires fiscal responsibility, which "means you can't spend more money than you have," he said.
Standard & Poor's, which downgraded Zambia's credit rating to B on July 2, said the shortfall, on a cash basis, will probably reach 10 percent of GDP. Including debt payments, it may reach 14 percent, it said.
"It's clear that the Zambian economy continues to face headwinds," Konrad Reuss, S&P's Managing Director for South Africa and sub-Saharan Africa, said in an interview in Lusaka on Wednesday. "There is time to get it right. The country has growth potential in many ways. It's really a balance of finding the right policies now, particularly in the fiscal space."
Before it's here, it's on the Bloomberg Terminal.
LEARN MORE