Venezuela Leader Hooked on China Cash Spurs 9,000-Mile Journey
President Maduro on surprise trip to Beijing to secure loans

Barclays says China funding key to avoiding cash constraints
Venezuela's best chance of avoiding a default next year lies with the country at the root of the current global turmoil: China.
The Asian nation, a key ally during the commodities boom years, has become Venezuela's lender of last resort as an oil rout threatens to bankrupt the world's 11th-biggest crude producer. President Nicolas Maduro announced a surprise trip to Beijing last Friday to ensure that China's economic woes won't derail a pipeline of loans he has said total $20 billion.
"If China gives Venezuela $20 billion, we don't see them defaulting in 2015 or 2016," Barclays Plc analyst Alejandro Grisanti said from New York. If it doesn't, "Venezuela will have very strong cash constraints to make its payments."
Venezuela and its state-owned oil company Petroleos de Venezuela SA are on the hook for $5.8 billion of interest and foreign-debt bond principal this year, with an additional $10.8 billion coming due next year, data compiled by Bloomberg show.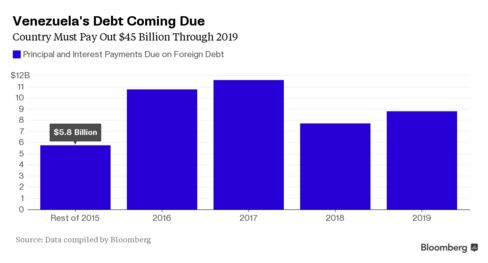 Maduro said in January that he obtained promises from China for the loans to shore up Venezuela's economy, battered by falling oil prices and recession. It wasn't clear at the time if China had fully approved the funding or when the money would be dispersed.
Loan Renewed
Finance Minister Rodolfo Marco Torres said in July that a $5 billion loan from China had been renewed, while Maduro said late Tuesday that he obtained a fresh $5 billion to increase oil production.
Credit-default swaps for Venezuela and PDVSA show traders have doubts about the support. The contracts are pricing in a 70 percent probability of default by September 2016, up from 50 percent three months ago.
Venezuela's Finance Ministry declined to comment when contacted by telephone Wednesday, and the Information Ministry didn't respond to an e-mailed request for more information on the status of new funding from China.
Default fears worsened after the price for crude, the source of 95 percent of Venezuela's export revenue, tumbled by more than half in the past year. The country burned through foreign reserves at a clip of almost $1.8 billion a month between March and July. At that pace, it could run out of cash by April, Scotiabank analyst Joe Kogan estimated in an Aug. 28 note to clients. Even in Scotiabank's best-case scenario, Venezuela's $16.4 billion of reserves will last only until August 2016.
China's 'Problems'
"The dramatic fall in oil prices suggests Venezuela could become less of a strategic priority" for China, Kogan said. "The Chinese have their own problems these days."
China triggered a global selloff in stocks, bonds and currencies last month when it devalued its yuan in a bid to jump-start demand for its exports. Signals that growth is slowing in the world's second-biggest economy added to a free-fall that wiped out $5 trillion from the value of global equities in August.
Maduro, speaking Tuesday in Beijing, said he made the 9,000-mile journey "to guarantee the resources that Venezuela needs for its development in the middle of complications that the whole world knows about."
Back when China's appetite for oil and commodities seemed endless, the Asian nation bolstered its influence in Latin America through funding deals with a number of countries. China has loaned Venezuela more than $45 billion in the past decade, mainly in exchange for oil.
More Careful
As China's demand for oil wanes and crude prices wither, it is more careful about whom it lends to and why, said Eurasia Group analyst Risa Grais-Targow. While Venezuela probably will get a $5 billion loan renewal, Maduro isn't likely to return from his trip with much more, she said.
The yield on Venezuela's benchmark 9.25 percent securities due in 2027 fell to 25.266 percent on Thursday after touching an 18-year high of 28.7 percent on Aug. 24. The price rose 1.2 percent to 40.235 cents on the dollar.
"Venezuela is in a vulnerable position right now," Grais-Targow said from Washington.
Before it's here, it's on the Bloomberg Terminal.
LEARN MORE