Top-Ranked Stock Manager in Scandinavia Embraces China Exposure
Norden Selektiv's Rylander Likes H&M, ABB and Novo Nordisk

Says Norway is now the ``scariest'' market in Scandinavia
As other investors have fled, the best-performing fund for Nordic stocks has stayed loyal to assets exposed to China.
Norden Selektiv, which is run by Marcus Rylander at Svenska Handelsbanken in Stockholm, has returned 28 percent over the past year, which is more than any other Nordic-focused stock fund rated by research firm Morningstar.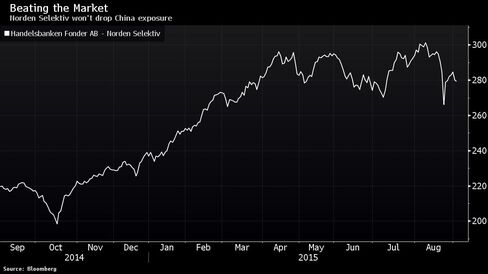 Rylander says he bases his investments on how he expects them to perform in three to five years. He's not looking for a flash in the pan but for well-run companies that will benefit from broad shifts that can't be upended by temporary market shocks such as the selloff that gripped China last month.
The companies that fit that description include ABB, Autoliv and Hennes & Mauritz, Rylander said. Autoliv relied on China for 16 percent of revenue last year. H&M, which has been in China since 2007, is planning to open most of this year's new stores there and in the U.S. China is the clothes retailer's third-biggest market by number of outlets.
"In those cases, earnings growth isn't dependent on China; we believe there will be earnings growth even without China," he said in an interview in Stockholm. "I don't think Hennes & Mauritz' growth in China is at risk and Autoliv has other legs to stand on."
The strategy has also drawn him to names like diabetes-drug maker Novo Nordisk of Denmark and Finland's Huhtamaki, which makes paper cups used for Starbucks coffee and bowls for Chipotle burritos and is also one of the world's biggest makers of egg-cartons.
Not every year has been great for Norden Selektiv. In late 2013, the fund underperformed when its strategy clashed with an unbridled market hunt for risk in the wake of unprecedented quantitative easing from central banks.
"The market was more optimistic and moved towards riskier assets," Rylander said. "But as disappointments started coming in, in terms of the global economy, successively there's been a move towards quality companies."
While assets exposed to China don't frighten Rylander, he says the plunging price of oil means the "scariest" market for him in the Nordic region right now is Norway. "But it's also the most exciting," he said. "Of course, we're looking for predictable companies, not for excitement, but if you do find a predictable company in Norway, it may be cheaper now than in Denmark."
Before it's here, it's on the Bloomberg Terminal.
LEARN MORE