Ruble Derails Russian Inflation to Set Stage for Rate Pause
Price drop didn't materialize in August after ruble weakened

Bank of Russia may halt easing cycle on currency volatility
An uptick in Russian consumer prices matched the second-smallest monthly increase this year, but that may be enough to arrest the central bank's easing cycle.
Consumer prices in August defied earlier forecasts for their first monthly drop since 2011 after the ruble's plunge deepened with crashing oil prices. Annual inflation unexpectedly accelerated to 15.8 percent from 15.6 percent in July, with prices rising 0.4 percent in the month. The median estimates of economists surveyed by Bloomberg were for 15.6 percent and 0.2 percent. That means the Bank of Russia will stand pat when it reviews borrowing costs on Sept. 11, according to BNP Paribas SA and Alfa Bank.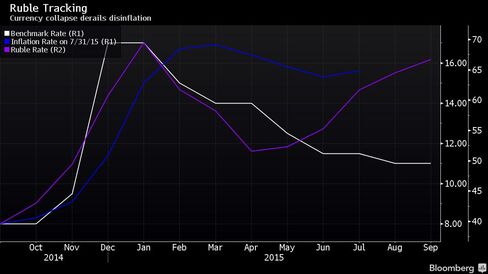 Falling prices failed to materialize after the ruble in August had the second-worst drop in developing Europe for its fourth straight monthly decline against the dollar. That means Governor Elvira Nabiullina may look past an intensifying recession by holding interest rates for the first time since an emergency increase in December, dealing a setback to businesses and households stinging from a collapse in incomes and sanctions over Ukraine.
"The ruble depreciation has already started to affect consumer prices," Eldar Vakhitov, an economist at BNP Paribas in London, said by e-mail before the data release, predicting a "more significant" acceleration this month. "The central bank realizes that and thus may temporarily halt its easing cycle. How long the pause will last depends on the ruble trend."
Pledge Scrapped
Policy makers dropped their commitment to continue lowering borrowing costs after this year's smallest reduction in July. All but two of the 26 economists surveyed by Bloomberg predict the benchmark will be held at 11 percent next week.
After looking to offer relief to the economy by cutting the benchmark a cumulative six percentage points to 11 percent, the Bank of Russia may be shifting the focus to the ruble and inflation, which remains almost fourfold its mid-term target. A weaker local currency boosts inflation by making imports more expensive.
Derivatives traders are extending their bets on an increase in borrowing costs. Forward-rate agreements are signaling 44 basis points of increases in the next three months, near the highest this year, according to data compiled by Bloomberg. The ruble, which has lost more than 45 percent against the dollar in the past 12 months, was 0.5 percent weaker at 67.5310 versus the U.S. currency at 3:23 p.m. in Moscow.
Russia will have no "special problems" with inflation if the ruble stabilizes at the current level, between 65 to 70 versus the dollar, Andrey Belousov, President Vladimir Putin's top economic aide, told reporters in Vladivostok on Friday.
Inflation, Ruble
"The expectation now that the ruble's devaluation will generate inflation is erroneous since the ruble's expected weakening is already largely factored into prices," he said. "The conditions for growth in investment will come about as soon as the key rate falls to below a level of about 10 percent."
Even so, there are signs of mounting price pressures.
Consumer-price growth accelerated to 0.2 percent in the seven days to Aug. 31, after zero inflation in four of the past five weeks, according to Federal Statistics Service data.
'Now Unobtainable'
"Our initial expectation of 0.2 percent deflation in August and September is now unobtainable," Natalia Orlova, chief economist at Alfa Bank in Moscow, said in a report. "For the moment, it looks like inflation by next spring will still have decelerated substantially, to 7 percent to 8 percent on an annual basis, which would make the central bank comfortable with the current 11 percent policy rate level."
The central bank sees inflation slowing to its 4 percent target in 2017 as the shrinking economy undercuts domestic demand. The Economy Ministry has already downgraded its forecast for contraction this year. Gross domestic product will shrink 3.3 percent in 2015, down from an earlier estimate for a 2.8 percent decline, according to the ministry.
Policy makers don't want to take any actions that may negatively affect the ruble's exchange rate, according to Oleg Kouzmin, a former central bank adviser who's now an economist at Renaissance Capital in Moscow.
"Increased volatility on the foreign-currency market in the recent month will be the main factor in motivating a pause in the easing cycle," he said by e-mail.
Before it's here, it's on the Bloomberg Terminal.
LEARN MORE