Raw Sugar Climbs Most Since 2011 as Weather Threatens Supplies
Brazil, India crops affected by adverse growing conditions

China's imports rising as output declines to decade low
Raw-sugar futures turned a bit sweeter for bulls, climbing the most in almost four years on concerns that adverse weather may hurt crops in Brazil and India, the top producing countries.
Sugar for delivery in October surged 5.7 percent on ICE Futures U.S., the biggest gain for a most-active contract since Sept. 29, 2011. Sugar rose for a third straight day, the longest stretch in seven weeks.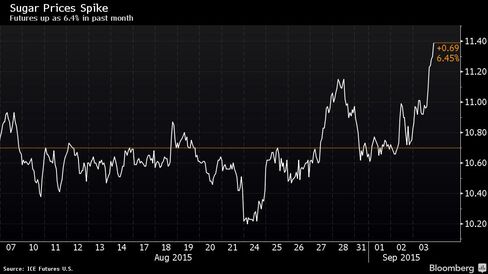 Rain expected this weekend and next week in Brazil will delay harvesting and reduce sugar content, according to Somar Meteorologia in Sao Paulo. India's plantings will come under pressure as the monsoon retreats next week, World Weather Inc. predicts. This will threaten to curb sugar-cane growth, especially in the top-producing state of Manarashtra.
"Production issues in other parts of the world are beginning to accumulate," Michael McDougall, a senior vice president for Societe Generale in New York, said by e-mail.
Through Wednesday, the commodity slumped 26 percent this year amid ample global supplies. Losses extended as producing-country currencies plunged, raising expectations for increased sales from suppliers seeking to get dollars. This includes Brazil, where the real has tumbled 41 percent in the past 12 months amid a slowing economy and budget turmoil.
El Nino
Raw-sugar for October delivery settled at 11.34 cents a pound at 1:13 p.m. on ICE in New York, after reaching 11.39 cents, highest for most-active contract since July 30.
Thailand, the second-largest shipper, faces potential dryness from the El Nino pattern, according to Lerner from World Weather. The concerns come as demand shows signs of improvement. This is led by China, the world's top importer, where production will slide to a decade low next season, according to Tom McNeill, director of Brisbane, Australia-based Green Pool Commodity Specialists.
"The key question now is whether the market can hold onto this morning's gains with a close above last month's high of 11.19 cents adding significance," James Liddiard, a partner at Agrilion Commodity Advisers in New York, said by e-mail.
Before it's here, it's on the Bloomberg Terminal.
LEARN MORE