Polish Army to Start Nazi Gold Train 'Reconnaissance' by Friday
Military to secure area, "either confirm or deny" discovery

Nazi train may be located in secret tunnels built in WW2
Poland's military will soon start "reconnaissance work" in the forested foothills of the Sudety mountains, where treasure hunters believe an armored Nazi train carrying gold and loot has been buried for 70 years.
Regional authorities in southwest Poland called for the army to help after two men said last month that they had found the lost train, attracting crowds of amateur scavengers to the woods near the city of Walbrzych. Local lore claims that a Nazi train loaded with loot, and possibly protected by booby traps, went missing after departing from Wroclaw in 1945, when German forces were in retreat from the Soviet-led Red Army.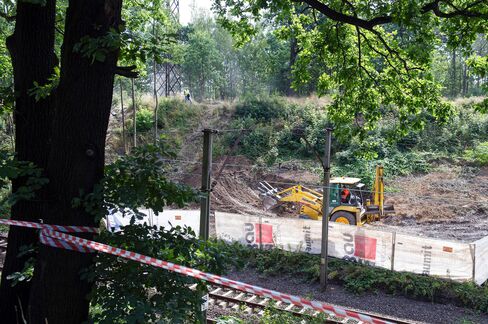 "We simply need to know where we stand on this whole story," Defense Minister Tomasz Siemoniak told Bloomberg in Walbrzych on Thursday, saying army operations will begin by Friday. Military explosives experts will "verify security aspects linked with possible mines" and propose further steps to "either confirm or deny" the discovery, he said.
Regional officials downplayed speculation about any breakthrough in recent days, saying new documents about the location of the lost train weren't stronger than similar claims made in the past. Last week Deputy Culture Minister Piotr Zuchowski said a geo-radar image of the more than 100-meter-long (328-foot) train he saw made the discovery "more than 99 percent certain."
Nazi Project
Toward the end of World War II, Nazi forces began building seven underground structures in the mountains near Walbrzych, an area that was part of Germany before the war. The aim of the project has remained unclear, and only some of the tunnels were completed.
Reports of the discovery have lured treasure seekers to the region, prompting authorities to send security personnel to the nearby forest to protect people who are walking along rails seeking an offshoot where the Nazis may have built secret tunnels.
"We requested military assistance to establish if there's any evidence behind claims that the train is buried here," Walbrzych Mayor Roman Szelemej said in an interview on Thursday. "We can't use city guards to protect an area of about 20,000 square meters indefinitely."
Rafal Okupniarek, a Walbrzych resident who works as a quality controller in a factory, is one of hundreds of people who came to a wooded area on the tracks near kilometer marker 61.
"I've heard stories about the train buried somewhere between the 61st and 65th kilometer of tracks for most of my life," Okupniarek said. "The gold rush is on."
Before it's here, it's on the Bloomberg Terminal.
LEARN MORE