New Zealand 'Star Wars' Geeks Finally Rule the Galaxy for a Day
Kiwis are first in Disney's Apple-like round-the-globe rollout of new toys
As a kid, Matt Glasgow had to wait months for "Star Wars" movies to open in New Zealand after their Hollywood premieres. He got his revenge: Auckland is in the time zone where products tied to the next film in the series went on sale first in the universe, and he was in his Rebel Alliance uniform before the local Toyworld opened at midnight.
``It's enjoyable to finally get, not payback, but satisfaction that times have caught up,'' said his wife, Kristy, who joined him in civilian dress. They met trading ``Star Wars'' action figures and have a collection that spreads through every room of their house. She snapped photos as they waited in line, and he anticipated buying a model of the droid BB-8 or the villain Kylo Ren long before he sees the characters in ``Star Wars: The Force Awakens'' in December.
That's the reaction Walt Disney Co. was aiming for when it borrowed from Apple Inc.'s iPhone rollout playbook. Disney's making merchandise spun out of ``The Force'' available as the Earth turns, starting in four cities in New Zealand at midnight and moving around the planet as time zones welcome Friday. It made Kiwi ``Star Wars'' junkies like the Glasgows proud and had Sarah Hillier feeling smug, though her zone's two hours later.
``For once we're ahead of the Yanks,'' said Hillier, 47, who works for an insurance company and spent six months threading fake fur into a Wookiee outfit with a soundbox that emits Chewbacca's roar. At the Westfield Parramatta shopping center in Sydney, Hillier, on stilts, stood 7-foot-8 as she waited for the Toys R Us and Target to open.
Apple has since 2008 put new iPhones on sale in Australia first, following in other countries in a march westward, building buzz. For Disney, that general starting point also made sense. ``You think of New Year's Eve, it starts in Sydney,'' said Catherine Powell, Disney's managing director for Australia and New Zealand. ``The fans will be following it in real time, that's the whole point.''
Disney -- which acquired the ``Star Wars'' franchise when it bought George Lucas' Lucasfilm in 2012 for $4.1 billion -- added a twist to the model by releasing movie merchandise three months ahead of the actual movie. ``This is pretty unique,'' said Marty Brochstein of the International Licensing Industry Merchandisers Association. ``They've made this into an event.''
All the better to boost sales of toy lightsabers and pique interest in the space opera's seventh installment. If it works out, Disney's profit could be $1.1 billion from the film and nearly $600 million from consumer products, according to Nomura Securities analyst Anthony DiClemente. Macquarie Research's Tim Nollen reckons sales of merchandise, made by Hasbro Inc. and hundreds of other licensees, could top $5 billion in the first year after the film's release.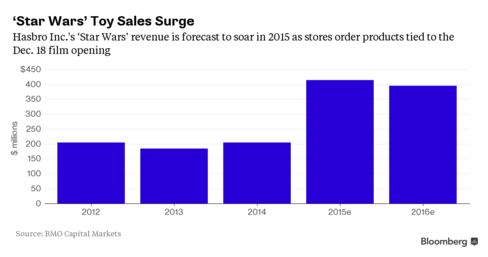 For what it dubbed ``Force Friday,'' Disney turned every knob on its control panel, livestreaming hourly unveilings of new toys before the midnight New Zealand kickoff. It did, however, drop plans to sell $50 tickets for head-of-the-queue spots outside Disney stores near its U.S. theme parks.
About 1,050 kilometers (650 miles) south of Sydney, in Tasmania, Nick Bishop, a 36-year-old software support worker, dressed as a Stormtrooper and made a two-and-a-half hour drive to the capital of Hobart to get to the Target by midnight. ``I really want the new BB-8,'' he said. ``I've already got umpteen toys of R2.''
The collector motivation is strong Down Under, as it is anywhere for ``Star Wars'' geeks. But timing is everything. The schedule for the release of ``The Force'' in theaters has it opening in New Zealand two days before it does in Hollywood, said Kristy Glasgow, who's studied the calender and international clocks. Once again it'll be exciting, she said, ``to be first.''
Before it's here, it's on the Bloomberg Terminal.
LEARN MORE