Myer Slumps Most on Record as Shares Sold to Fund Turnaround
Stock trades in Sydney at lowest level since its 2009 listing

Strategy seeks to return Myer to ``sustainable profit growth''
Myer Holdings Ltd., Australia's largest listed department store chain, slumped to a record low after saying it would sell A$221 million ($156 million) in new shares to cut debt and invest in a turnaround.
Shares in the Melbourne-based chain fell 21 percent, the most on record, to 90 Australian cents at the close in Sydney. The company has lost more than two-thirds of its market value since a TPG Capital Management LP-led group sold it back to the market in 2009.
Myer needs cash to shift more of its business online amid renewed competition from its rival David Jones following a 2014 takeover by South Africa's Woolworths Holdings Ltd. and a slowdown in the country's department store sector. Myer said Tuesday it would offer two new shares for every five existing shares at 94 Australian cents each, 22 percent below their previous closing price.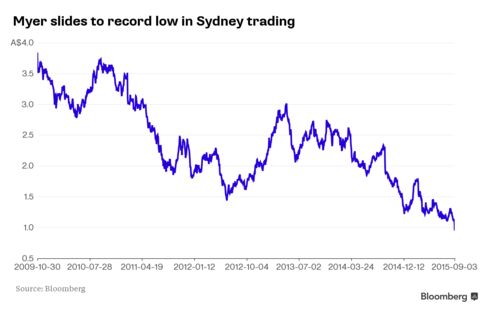 "Management has been actively addressing the underlying issues in the business," Chief Executive Officer Richard Umbers said in a statement that day. The changes will "return the business to sustainable profit growth."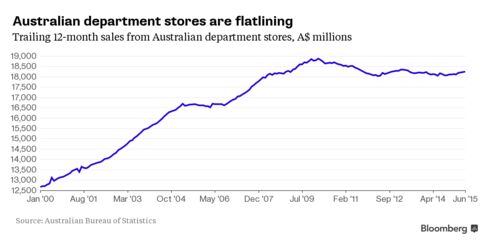 Myer will buy 25 percent of Arcadia Group Ltd.'s Australian Topshop chain and look to reduce the total area of its store network by as much as 20 percent, according to regulatory statements Tuesday.
Before it's here, it's on the Bloomberg Terminal.
LEARN MORE