Korea Reserves Fall for Second Month in Sign of Won Intervention
Yuan devaluation in August spurred slides in Asian currencies

Won is second-biggest loser in the region this quarter
South Korea's foreign-exchange reserves dropped for a second month in August, a sign the central bank likely intervened to stem a slide in the won.
The reserves fell $2.88 billion to $367.94 billion, after a July drop of $3.93 billion that marked the biggest decline in three years, central bank data showed Thursday. The won sank last month to its weakest level since October 2011 as China's surprise devaluation of the yuan dimmed the outlook for exports, weakening emerging-market currencies across Asia, and a military standoff between North and South Korea heightened tensions on the peninsula.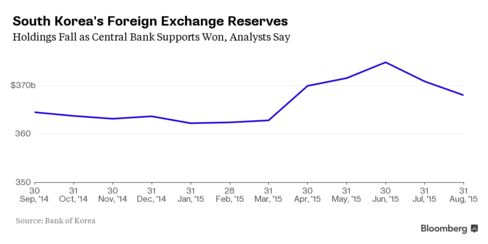 "We can presume from the decrease in reserves that the authorities have sold dollars in the market," said Jeon Seung Ji, a currency analyst at Samsung Futures Inc. in Seoul. "The government's will to adjust the pace of drop is shown in the reserves, and the moves in Asian currencies will be in focus for some time."
The won fell to 1,199.68 per dollar on Aug. 24, the weakest level in almost four years, and Bank of Korea said that day efforts to calm markets were important. An official, who asked not to be identified in keeping with central bank policy, declined to comment Thursday on speculation that authorities intervened to support the exchange rate last month. Minutes of the authority's Aug. 13 policy meeting showed this week that a board member warned China's economic slowdown and the devaluation of the yuan could pose significant headwinds to South Korea's economy.
Government bonds extended gains on Thursday, pushing the three-year yield down by two basis points to close at a record-low 1.68 percent in Seoul. The won fell 0.8 percent to 1,190.28 a dollar. The currency has lost 6.3 percent this quarter, with only Malaysia's ringgit performing worse in Asia.
The drop in the reserves "suggests intervention," said Hong Seok Chan, a currency analyst at Daishin Economic Research Institute in Seoul. "The authorities' main focus seems to have shifted to calming nerves after China's yuan devaluation, from supporting export competitiveness against a weak Japanese yen. The won will continue to show a downward trend along with Asian currencies."
Before it's here, it's on the Bloomberg Terminal.
LEARN MORE