Italy's Time to Shine as Stocks Outperform After 10-Year Plunge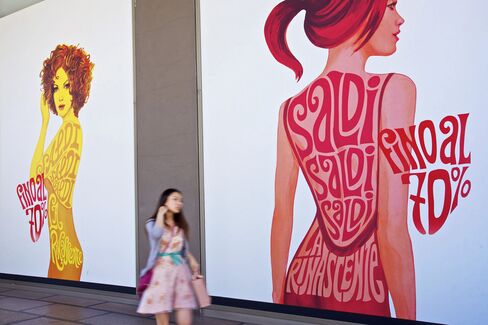 FTSE MIB is among the best performers in developed markets

Options traders are paying less to protect against volatility
The rout that slashed as much as $8.3 trillion off equity values has left one market relatively unscathed: Italy
While European shares have given up more than three-quarters of their gains for the year, the benchmark FTSE MIB Index is still up 15 percent. Italian equities suffered less from the recent slump because the companies are not as exposed to China. At the same time, traders speculate the domestic economic revival will lift stocks that have underperformed peers for the past decade.
"It's really helping, the fact that the numbers have been coming in better and Renzi took a lot of measures seen positively for the country," said Ion-Marc Valahu, co-founder and fund manager at Clairinvest in Geneva, referring to the country's prime minister. His firm owns Italian shares. "It's not as exposed as the DAX to exporting markets. It's still a positive market, and they are still benefiting from QE."
While Germany's DAX Index has slumped 17 percent from its record in April amid a plunge in carmakers, Italian shares have lost less than half of that, outperforming most European national gauges. The biggest companies in the FTSE MIB -- Eni SpA, and banks Intesa Sanpaolo SpA and UniCredit SpA -- get more than 65 percent of their revenue from Europe and less than 15 percent from Asia.
What's more, options traders are spending the least since 2011 to hedge against stock swings in the Mediterranean nation, relative to the broader region.
Investors are growing optimistic that Prime Minister Matteo Renzi's measures and European Central Bank stimulus are working. Italy's economy in the first half of the year expanded more than previously estimated, unemployment unexpectedly fell in July, and a gauge of manufacturing and services industries climbed more than forecast in August.
Among the policies, Renzi overhauled the nation's labor code last year, making it easier for companies to fire and hire. UniCredit just yesterday was said to weigh cutting another 10,000 jobs, sending its shares up as much as 4.2 percent. The four best-performing lenders in the Stoxx Europe 600 Index this year are Italian.
The nation's shares are seeing a rare bout of confidence after the FTSE MIB lost 38 percent from 2005 to 2014, while the European measure climbed 36 percent. But for Didier Duret, who oversees about $219 billion as chief investment officer of ABN Amro Bank NV's wealth-management unit, things could still turn sour.
"There is a risk the European recovery flattens," he said. "If there's a risk of a slower growth, then Italy will suffer."
The ECB yesterday cut this year's economic growth forecast for the region to 1.4 percent, while revamping its stimulus program.
Still, stock valuations are holding up, with the FTSE MIB trading at 17.1 times estimated profit, more than the benchmark gauge for Europe's equities. And investors have been adding money to exchange-traded funds tracking Italian shares. The iShares MSCI Italy Capped ETF hasn't had monthly outflows since January, and the Lyxor ETF FTSE MIB gathered $41 million in August.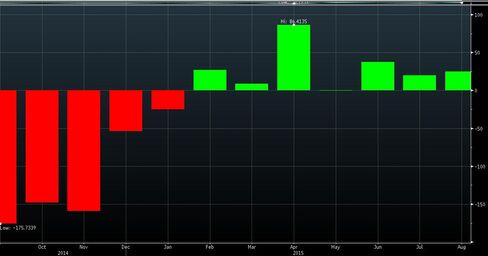 "Today the macro risk is about China and who is going to be affected by that," said Lorne Baring, who helps oversee $500 million at B Capital in Geneva. He added to his exposure to Italian stocks in the last quarter. "The Italian market has less exposure. There is also a feeling that southern countries are rebounding quicker from a lower base. We expect Italian stocks to continue in this bullish trend for the rest of the year."
Before it's here, it's on the Bloomberg Terminal.
LEARN MORE