Extreme Valuations See Pimco Shun U.K. Linkers for U.S. Debt
U.K. bonds yield least relative to TIPS since November 2008

Insatiable demand from pension funds boosting long-dated debt
Pacific Investment Management Co. is calling time on the U.K. inflation-linked bond market, dubbing it the most overvalued in the world.
With the securities offering negative real yields, meaning investors receive a return below inflation if they hold them to maturity, U.S. linkers provides better value, according to Pimco. Long-term debt is being distorted by "insatiable" demand from pension funds that are required to own them in order to match their long-term liabilities, it said.
Investors can get an extra 2 percentage points of yield by holding 30-year Treasury Inflation Protected Securities instead of index-linked gilts, the biggest premium since November 2008. The yield on the 30-year linkers slipped to minus 0.87 percent as of 11:54 a.m. London time.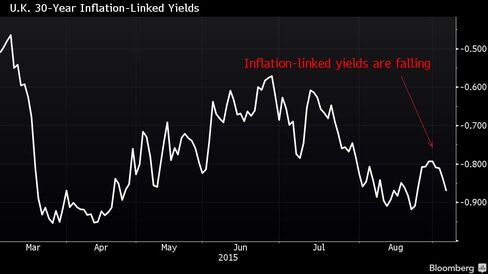 "Current extremely low and negative real yields on U.K. index-linked gilts, particularly for long-dated bonds, do not appear to have any fundamental justifications," Pimco money managers Mihir Worah and Mike Amey and product manager Berdibek Ahmedov wrote in an e-mailed report. "Valuations are fundamentally much more attractive in the U.S. TIPS market."
At 3.35 percent, the outlook for U.K. inflation as implied by the yield difference between nominal and 30-year index-linked bonds is close to the highest this year. That's even as Bank of England Governor Mark Carney warned on Aug. 29 that slowing Asian growth prospects could "impart further imported disinflationary pressures over the policy horizon."
Break-even Rates
Break-even rates make "sense out to about 15 to 20 years but out beyond that it's hard to rationalize," said Robin Marshall, director of fixed income at Smith & Williamson Investment Management LLP in London. "The break-even curve, compared to other markets, is very steep. For an investor, the longer-term real yields on TIPS look pretty attractive in this environment."
Inflation-linked gilts returned 2.07 percent this year through Thursday while their counterparts in the U.S. lost 0.4 percent, according to indexes compiled by Bank of America Merrill Lynch.
The U.K., which sold 650 million pounds ($992 million) of linkers due in 2058 at a real yield of minus 0.929 percent on Aug. 11, plans to sell index-linked debt due 2068 later this month.
According to Pimco, the supply of linkers is failing to keep pace with demand and a regulatory environment that forces pension funds into low-yielding assets makes it increasingly hard for them to fund their liabilities.
"We believe investors constrained by pension fund regulations to invest only in the U.K. would be better off spreading their exposures between index-linked gilts and conventional gilts," said the Pimco managers, who help oversee the firm's $1.52 trillion of assets under management. "Unless regulations that offer cheap funding are the government's goal, the best long-term solution in our view would be to relax regulations that cause adverse investor behavior."
Before it's here, it's on the Bloomberg Terminal.
LEARN MORE