Even Strong Economic Data Provide Cause for Pessimism on Inflation
Employment roars but inflation sinks in services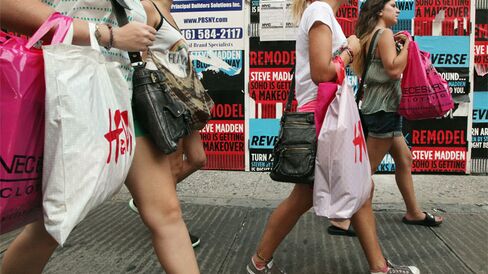 Two surveys released Thursday suggested a much healthier U.S. economy but may nevertheless end up sending mixed signals to monetary policymakers.
The final reading of the Markit U.S. services purchasing managers' index came in at 56.1 in August, above the initial print and the consensus estimate, while the ISM non-manufacturing purchasing managers' index posted its second-best reading since 2005.
Any print above 50 suggests growth in the service sector, while readings below 50 point to contraction.
These surveys suggest that the vast majority of segments of the world's largest economy continue to expand at a healthy clip in the third quarter: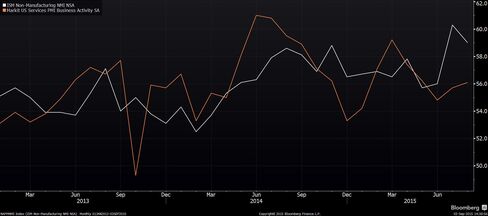 The Federal Reserve has indicated that liftoff for interest rates will occur once the Fed has seen further improvement in the labor market and is reasonably confident inflation will trend back to 2 percent.
These reports likely help address the first criterion, as Markit noted that August marked "another robust upturn" in job creation, while the ISM index showed that employment increased for the 18th consecutive reading, though at a slower pace than in July.
Inflation, however, is a different matter.
At the Jackson Hole Economic Symposium, a number of central bankers espoused a belief that upward pressure on prices would soon mount, and strength in payrolls is of central importance to this view. Economic orthodoxy holds that continued employment growth begets higher wages as workers gain more leverage, which will in turn foster a rise in inflation.
But prices, according to Markit's survey, failed to cooperate with that theory in August.
Prices charged by service providers fell for the first time in more than two years, and the rate of decline was the fastest since November 2010.
Although the outlook for inflation is more important to monetary policymakers than its current level, falling sales prices in the service sector are unlikely to give the Fed more confidence that its prognosis for an increase in inflation will come to pass.
"While the economy has maintained robust growth momentum, inflationary pressures have abated, which will help the argument that interest rate hikes can be delayed," wrote Markit chief economist Chris Williamson. "In fact, with the survey data showing average selling prices for goods and services to have fallen in August for the first time since 2010 and global economic concerns intensifying, the balance could easily tip toward the need for more stimulus."
Meanwhile, the ISM non-manufacturing index showed that prices paid for inputs increased at the slowest rate in four months.
Before it's here, it's on the Bloomberg Terminal.
LEARN MORE