Euro Strength Returns to Impede Draghi's Pursuit of Inflation
Euro-area inflation outlook weakened in August amid China woes

ECB rates unchanged: Draghi to speak in Frankfurt at 2:45 p.m.
The euro's recent gains are the last thing Mario Draghi needs.
In the past month, the shared currency has strengthened 2.6 percent against the dollar. At a time when oil prices are falling and China is stoking concern that its economy is weakening, the European Central Bank president is finding his efforts to lift inflation hampered on several fronts.
On Thursday, he has a chance to publicly discuss those influences and traders will be watching his press conference that begins at 2:45 p.m. in Frankfurt for signs that monetary stimulus could be expanded. While the central bank is already engaged in a bond-buying program, scheduled to run through September 2016, the euro appreciated against most of its 16 major peers in the build-up to the briefing as the ECB kept interest rates unchanged.
"Concerns about China, the falling oil price, the appreciation of the euro. No, the current developments are unlikely to please the ECB," Thu Lan Nguyen, a foreign-exchange strategist at Commerzbank AG in Frankfurt, wrote in a note to clients. "There is a risk that Draghi, similar to last year, will refer to the exchange rate and the negative effects of a stronger appreciation to prevent further euro appreciation."
The euro was little changed at $1.1229 at 12:47 p.m. London time. It was at 135 yen. On a trade-weighted basis, the common currency reached the highest since January last week.
Inflation Swaps
The ECB's stimulus had been helping to depreciate the euro. Between December and July the currency had weakened more than 9 percent against the dollar. A gauge of inflation expectations has also risen over that period. In August, the five-year, five-year forward inflation swap rate, a market metric identified by Draghi as a benchmark for the euro area's inflation outlook, retreated back to the lowest level since February.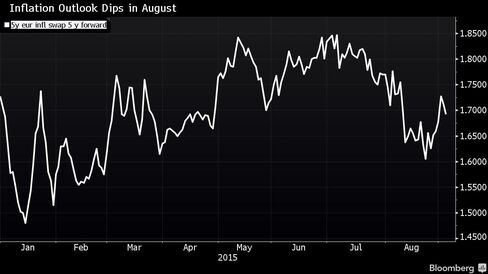 More than $7.7 trillion has been wiped off of global equities markets since China devalued its currency last month. The euro gained as traders turned to it as a haven. It is also used as a funding currency for carry trades, positions that are then reversed in times of risk aversion.
In carry trades, investors borrow in a currency with low interest rates to purchase a higher-yielding asset. The deals tend to depress the funding currency.
Rates Decision
The ECB's main refinancing rate was held at 0.05 percent, as predicted by all of the 47 economists in a Bloomberg survey. The deposit rate was kept at minus 0.20 percent.
"I expect Draghi will have a dovish tone," said Myles Bradshaw, head of global aggregate strategies at Amundi, which has more than 950 billion euros in assets under management. "The risk is that they do something more substantive, to my mind it would be something like announcing a project to look at what they might do."
"It would also be unusual for any central bank to react to one month's volatility," Bradshaw said. "More important for me is where five-year, five-year break-even is. That came down dramatically and in the last few days gone up a bit. I don't think it's at a level that's a break-the-glass moment, but it's clearly at a level in which the ECB will express strong vigilance with deflation."
Before it's here, it's on the Bloomberg Terminal.
LEARN MORE