Energy Lenders Balk at Deals Aimed at Saving Miners, Drillers
Plummeting oil, coal prices have creditors thinking twice

Borrowers struggle to get debt exchanges designed to bide time
Creditors of drillers and miners are getting fed up with depressed commodities prices and are clamping down on deals that would help heavily indebted companies ride out the slump.
The arrangements, called debt exchanges, are designed to help borrowers cut their obligations and buy time by swapping old securities for fresh ones with longer maturities. In most cases, lenders accept upfront losses based on the expectations that they'll eventually recuperate their investments, and more, when the companies start to grow again.
As oil prices collapsed last month, investors became skeptical that there would be much upside from agreeing to deals that would help the companies manage their heavy debt loads. As a result, borrowers such as Arch Coal Inc. and Energy XXI Ltd. haven't been able to get their debt exchanges done and instead are locked in stalemates with creditors. Samson Resources Corp., which failed to agree to a deal with its unsecured bondholders on a plan that would have kept the gas producer out of bankruptcy, said two weeks ago it will now pursue an in-court restructuring by Sept. 16.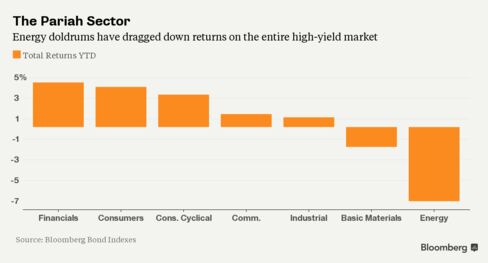 "It has become a much more challenging environment for out-of-court restructuring," said David J. Karp, a partner at Schulte Roth & Zabel LLP who specializes in distressed investing. "Creditors now believe that lower oil-and-gas pricing is here for the long haul."
Karp believes that the oil rout and buyers' reluctance will result in more energy companies seeking bankruptcy protection over the next several months.
Logan Bonacorsi, a spokeswoman for Arch Coal, didn't respond to telephone and e-mail messages seeking comment. Greg Smith, a spokesman at Energy XXI, declined to comment.
Earlier in the year, as crude climbed to over $60 a barrel, a number of energy companies successfully negotiated distressed debt exchanges. Six deals closed in the second quarter, affecting a total of more than $10 billion in debt, compared to none a year earlier, according to a July report by Moody's Investors Service. In the second quarter, oil-and-gas producers including Warren Resources Inc. and Midstates Petroleum Co. successfully completed debt exchange deals that helped reduce their obligations.
Even then, creditors demanded sweetened terms, such as more senior debt that would protect their value in a downturn, in order to get the deals done.
The door for debt exchanges started to close in late June as oil tanked and creditors became convinced that energy prices aren't likely to bounce back soon. In the past couple of weeks two borrowers, Halcon Resources Corp. and Goodrich Petroleum Corp., managed to close their deals, but the damage to Halcon's other lenders due to the transaction outweighed the benefit to the driller's overall debt structure. Shortly after the agreement was done the Houston-based explorer's bonds lost more than a quarter of their value because the arrangement was thought to have weakened the standing of other unsecured lenders.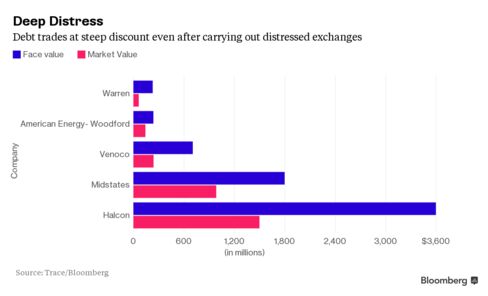 Arch Coal hasn't been so lucky. A proposed deal with bondholders to swap some of their securities into higher-ranking and longer-dated debt is stuck in limbo after another group of lenders moved to block it. The exchange would help St. Louis-based Arch cut its interest expense and avoid a potential breach in its credit agreement.
But as coal prices continued to drop, efforts to reach a compromise faltered, according to two people with knowledge of the discussions. The lenders grew concerned that the exchange wouldn't save the beleaguered miner and concluded that they might be better off if the company filed for bankruptcy, said the people, who asked not to be identified because the discussions are private.
The company has extended its deadline on the bond-exchange offer multiple times since it was announced July 2.
Arch Coal's longest-term debt, $1 billion of 7.25 percent senior unsecured bonds maturing in June 2021, last traded at 11.75 cents on the dollar on Sept. 3, according to Trace, the bond-price reporting system of the Financial Industry Regulatory Authority. They've lost 18 cents this year.
Energy XXI, for its part, started negotiating with its creditors in May for a similar debt swap. The Houston-based oil and natural gas producer has been looking to reduce its $4.6 billion debt load and delay the 2017 and 2018 maturities. In early July, the company appeared to be close to reaching an agreement.
Then crude prices plunged and Energy XXI's creditors became skittish, said people with knowledge of the talks. Now the company is struggling to keep the negotiations alive, the people said.
Crude remains down more than 20 percent from its peak in June, as leading members of the Organization of Petroleum Exporting Countries sustain output and U.S. crude stockpiles remain above their five-year seasonal average. West Texas Intermediate for October delivery was trading at $46.48 a barrel at 9:00 a.m. Friday on the New York Mercantile Exchange.
"We've now moved into a new mentality," Karp said. "Investors believe the low commodity prices will be prolonged. The option to ride out the hedges hoping for prices to come back is out for many companies."
Before it's here, it's on the Bloomberg Terminal.
LEARN MORE