Emergency Liquidity Assistance set at 89.1 billion euros

Deposit outflows decelerated in August after bailout deal
The European Central Bank reduced the amount of emergency funding available to Greek lenders, a person familiar with the matter said, as capital controls and an agreement between the country's government and its creditors eased deposit outflows.
The cap on Emergency Liquidity Assistance was cut by 600 million euros to 89.1 billion euros ($100 billion), and the ceiling will stay in place until the next Governing Council meeting scheduled for Sept. 16, the person said, asking not to be named as ELA decisions aren't public.
A Bank of Greece spokesman wasn't immediately available for comment, while ECB President Mario Draghi said on Thursday that rules will be eased as of now, allowing central banks to convey ELA figures. The ELA reduction was communicated thanks to journalists' "investigative capacities," he told reporters in Frankfurt.
The decline in ELA, which follows a cut of 700 million euros last month, reflects an easing of Greece's financial crisis following months of dispute that almost drove the country out of the euro. Former Prime Minister Alexis Tsipras was forced to impose capital controls after breaking up negotiations with creditors and calling a referendum on the terms demanded, before finally agreeing to a deal.
Easing Outflows
Deposit outflows in August decelerated to about 300 million euros, the person said. They fell by about 1.4 billion euros in July, according to the latest available data from the country's central bank. Greeks withdrew more than 43 billion euros from their bank accounts over the previous months, or 26.5 percent of total savings, amid speculation that deposits will be wiped out or re-denominated into drachmas.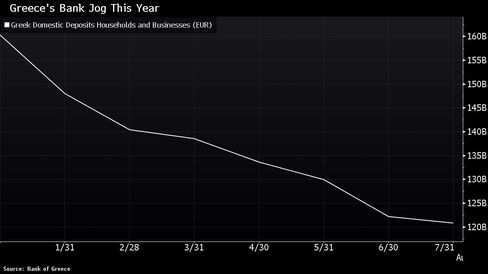 The bleeding, which had made Greek lenders reliant on weekly injections of ELA, almost stopped in August, as transfers of money abroad are restricted under the capital controls in place, while a limit of 420 euros per week has been set on withdrawals from ATMs. Euro-area governments have said that depositors won't be asked to plug any capital shortfall in lenders, after Tsipras struck an agreement for a new bailout.
A bail-in of depositors "would be counterproductive," Draghi said on Thursday after the Governing Council meeting in Frankfurt. "Similar considerations were not deemed to be applicable to senior bondholders."
The ECB is carrying out a comprehensive assessment of Greek lenders' balance sheets, the results of which are foreseen by the end of October. A recapitalization backed by 25 billion euros of emergency loans from the euro area will follow by the end of the year under the aid program.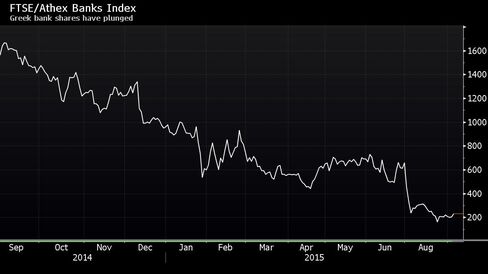 Draghi said that the Governing Council will examine "in the weeks ahead" whether to reinstate a waiver allowing junk-rated Greek lenders to regain access to the ECB's normal refinancing operations, thus limiting their dependence on short-term and more expensive ELA funding.
"For reinstating the waiver, the country has to be in a program of financial assistance, has to comply with it, has to show strong ownership and consistent and significant implementation," the central banker said. The ECB will assess whether Greece has implemented specific "milestones" in the implementation of its bailout clauses and decide accordingly on the waiver, Draghi said.
Snap Elections
Compliance with the milestones may be delayed, as the country heads to snap elections on Sept. 20, and possibly thorny coalition talks. Tsipras stepped down last month and called a ballot following a mutiny in his party against his compromise with creditors, which stripped the 41-year-old leader of his parliamentary majority. The latest opinion polls show that no party will get an outright majority in the next parliament.
Once a waiver is reinstated the ECB will assess whether Greece is eligible for its bond purchase program, according to Draghi. The decision will depend on whether the country complies with its bailout commitments, and on a debt sustainability analysis to be carried out by the Governing Council, he said.
Before it's here, it's on the Bloomberg Terminal.
LEARN MORE