Catalans Preparing for Secession-Bid Failure Seek Leverage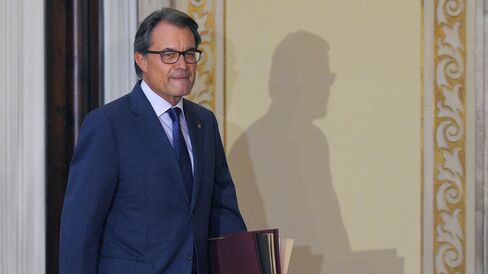 Catalan President Artur Mas is readying a face-saving fallback plan as his chances of winning majority backing for his bid to break away from Spain fade.
The Catalan leader said Thursday he wants his separatist ally and rival, Oriol Junqueras, to extend the alliance they forged to fight this month's regional election through to Spain's general election in December.
The move toward what would effectively be a third independence vote in just over a year marks a retreat from Mas's pledge to secede from Spain within 18 months if he wins a majority on Sept. 27 and the national government refuses to engage in talks.
Mas has staked his political future on securing a pro-independence majority in the regional ballot he's framing as a de facto referendum. His effort has already ruptured his party and inflamed emotions across Spain. As polls show he'll fall short, he's switching tack to maximize his leverage with the Spanish government.
"There won't be a declaration of independence, but the start of a process of dialogue," Mas said in an interview with Onda Cero radio Friday. "If we fail to win a majority, it would be necessary to seek a different way out for Catalonia."
The broad pro-independence platform that Mas and Junqueras endorsed is set to win 57 seats in the 135-seat regional parliament, according an NC Report poll for La Razon newspaper released Aug. 27. Another separatist party, CUP, would win four seats, leaving the nationalist bloc short of the 68 it needs for a majority.
Negotiated Settlement
While many Catalans have dismissed the survey because of Madrid-based La Razon's hostility to their cause, Mas's tactical shift reflects a broader change in tone among some nationalists. Mas's closest ally has signaled their cause might be better served by maneuvering for a deal with Spain than provoking a clash.
"Even though Mas's list won't get an outright majority, negotiations will be necessary," Jose Ignacio Torreblanca, head of the Madrid office of the European Council on Foreign Relations, said in a phone interview. "We are heading to a political deadlock in Catalonia."
Catalonia and Spain are so tightly intertwined that neither side can impose itself on the other and the only way to resolve the conflict is through a negotiated settlement, Francesc Homs, the Catalan leader's right-hand man, said in an interview last week.
While Homs paid lip-service to his boss's pledge to declare independence from Spain if the national government refuses to engage, he also opened up the possibility of a negotiated settlement without insisting that it include independence.
'Too Interlinked'
"If you do the math, you realize that the best thing would be negotiating a good deal," said Homs, who is also running the pro-independence campaign. "I don't see any other scenario but negotiation because the interests are too interlinked."
Mas's party is planning to include Homs, currently head of the president's department, in the list of candidates for the general election in a further sign of his shift in focus from the streets of Barcelona to the backrooms of Madrid, according to two people familiar with the matter. A party press officer declined to comment on the decision.
If Mas can persuade Junqueras to sign up to his plan, the Catalans may increase their weight in the Spanish parliament because the country's electoral system favors parties that poll first or second in each district.
Broader Debate
Then the region's complaints about their treatment could be aired in a broader debate about the structure of Spain. All the main national parties are calling for constitutional reform to address issues including the politicization of institutions from the courts to the education system and the relationship between the central government and the regions.
Adding a handful of extra lawmakers could give the Catalans considerable leverage after an election that polls suggest will produce the most fragmented result in a generation.
"Even a new Spanish government won't easily sit down to talk about independence," Lluis Orriols, a political scientist at Madrid's Carlos III University, said in a phone interview. "But they may well talk about constitutional reform."
Before it's here, it's on the Bloomberg Terminal.
LEARN MORE